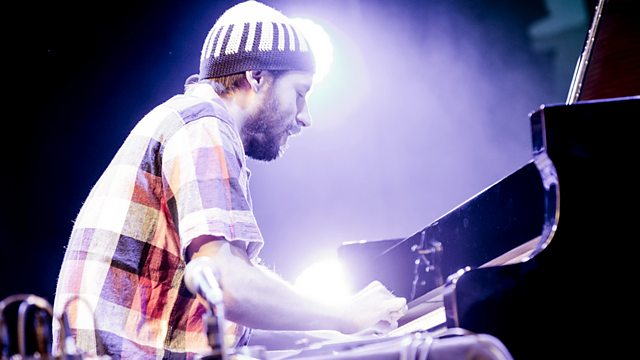 David Helbock - © 2013 Jazzfestival Saalfelden
Tucked away in the Austrian Alps, Saalfelden Jazz Festival has been going strong for almost 35 years, playing host to local and international acts alike. Every year, thanks to the hard graft and solidarity of the European Broadcast Union, a package of highlights arrives at Jazz on 3 of new, experimental jazz from the festival – and this year didn't disappoint.
It's tradition that a local Austrian artist is commissioned to open the show and this time it was the turn of young pianist David Helbock with his quartet Action Figures. David is from a small village called Koblach up on the Swiss border and as his bandname would suggest, takes a very playful approach to music. The quartet features the unusual backline of drums and tuba, giving it a powerful low end, whilst American tenor player Tony Malaby adds to the punch. Helbock is certainly one to watch, with a unique composition style – although influences do bubble to the surface on the brilliant 'Anonymous Monkaholics'.
Saalfelden is also a great place to encounter more established acts, but often found in new or unusual groupings. French guitarist Marc Ducret, previously heard on Jazz on 3 with his trio, appears here with his 12-piece Tower Bridge ensemble. Hefty brass sounds, two drummers and big riffling characterises an intense set, featuring Tim Berne on alto sax. We also hear again from John Medeski – who in contrast to last week's featured gig with Medeski Martin and Wood – plays a solo piano set of unusual and rather beautiful interpretations of spirituals like 'His Eye Is On The Sparrow' alongside Gershwin's classic 'Summertime'. The Uri Caine Ensemble also nod to Gershwin in a performance featuring vocalists Barbara Walker and Theo Bleckmann. Their playful deconstruction of the melody in 'They Can't Take That Away From Me' into a childlike, syllabic antiphony is followed by an impressionist, layered and rather beautiful 'But Not For Me'.
The real surprise though comes from Swedish improvising saxophonist Martin Küchen's Angles 10. In another brass-heavy line up, full-force rhythmic grooving meets Eastern tinged melodies – for a rapturous performance which at times reminded me of Sun Ra's Arkestra. Playing 'Every Woman Is A Tree', Küchen really delivers with some clever composing and stand out solo moments on alto.
Join me for these fantastic performances on Monday 10 February at 11pm, or listen online for seven days after broadcast.
Jez
2013 Saalfelden Jazz Festival in photos
If you have comments about the show, or requests for music you'd like to hear, do get in touch at jazzon3@bbc.co.uk or on twitter at @BBCJazzon3.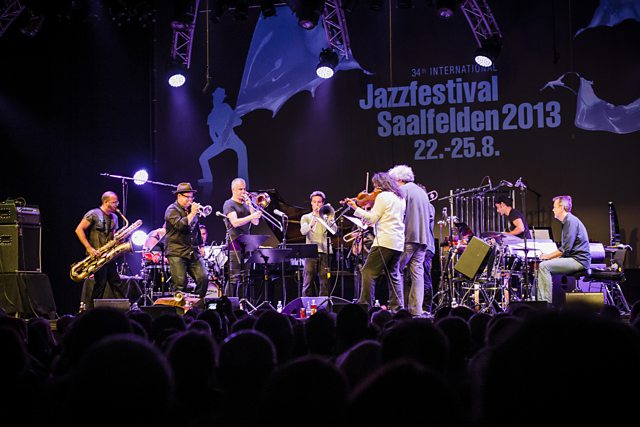 Marc Ducret's Tower Bridge - © 2013 Jazzfestival Saalfelden