This week on Jazz on 3 we look East to a band who arguably, look West right back in return. Mix the delicate subtleties of traditional Japanese music with melodic themes of European folk and you're starting to enter the soundworld of Gato Libre, a unique quartet led by trumpeter Natsuki Tamura. We've an exclusive studio session from the band, plus a special collaboration with British improvising guitarist John Russell, who also joins me in the studio to share his passion for the Japanese improv scene.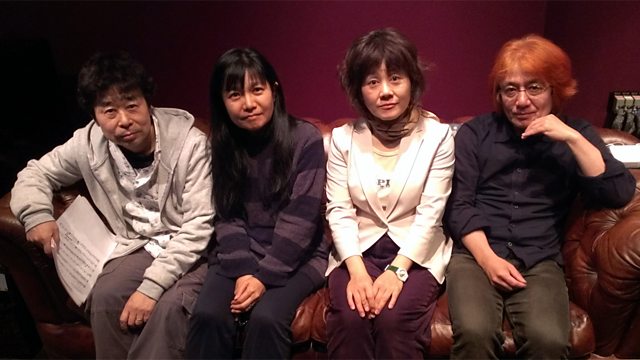 You might wonder why the group take a Spanish title. Well, Gato Libre translates as 'free/stray cat', a phrase adopted by Tamura on his travels across continents, and quite fitting too for a band whose music follows suit. The trumpeter has ferocious chops as a free improviser, but in this setting his focus is on minimal and texture-aware playing, through beautiful and filmic pieces. He is joined by longstanding collaborator Satoko Fujii, performing on accordion rather than her usual piano. Completing the line up are guitarist Kazuhiko Tsumura and Yasuko Kaneko on trombone. Both brass players have some stunning lyrical moments on the pensive 'Gato' and later on 'Nanook' they explore abstract and vocalised techniques to great effect. The attention to noise detail is incredible and during the wandering episodes of 'Mouse', Tsumura builds fascination with the scrapes, slides and percussive texture of the guitar's strings, building in a frenzied ending section.
Later in the session, Tamura and Fujii (now back on piano) join forces with British guitarist John Russell to explore a different side of their playing in an extended free improvisation. Their performance takes a darker turn to more impressionist and atonal territory, shunning melody almost completely. In interview John, who has been an instrumental force in bringing Japanese players to the UK over the years, explains just why he finds this meeting of cultures so interesting and also pays tribute to one of the founders of Japan's free improvising scene – percussionist Sabu Toyozumi.
Join me for this fantastic session from 11pm on Monday 9 September or listen online for seven days after broadcast.
Jez
If you have comments about the show, or requests for music you'd like to hear, do get in touch:
email - jazzon3@bbc.co.uk
tweeet - @BBCJazzon3
facebook - Official Radio 3 page