American trumpeter Peter Evans isn't a household name even in jazz-loving households, yet. But on the evidence of his gig on Jazz on 3 last night, that looks set to change before too long.
Those in the know who came to check out the debut UK gig by Zebulon Trio thought they knew what to expect: extraordinary technical ability, fierce speed and intricately woven compositions. The first two were in full effect, but with this grouping Peter has chosen to show another dimension. Instead of the dense structures of his larger groupings - he's described those pieces as lattices, or jungles, evoking a complex ecosystem - this music had a more open structure, with dramatic tension created by Peter alternating between playing insistent little repeated figures over a steady groove, and freer passages of virtuosic fluidity.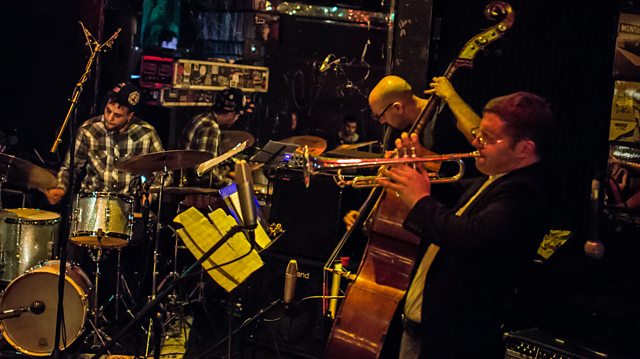 Peter Evans's trio, Zebulon
This approach left plenty of room for
John Hébert
's double bass. Having heard him in many other ensembles, I was keen to hear him in action with Peter and I wasn't disappointed.  Hébert was able to keep up with Peter's relentless speed while maintaining a distinct musical personality, particularly in the passages of lyrical bowing.
The real surprise of the night was drummer Kassa Overall, who I personally hadn't come across before. Like several up-and-coming New York drummers he sits very comfortably in that grey area between jazz and hip hop (and apparently avant-garde and indie-pop too if you look him up online!), perfectly happy to sit on a groove or add subtle pace and texture to passages of free improvisation, sometimes using timpani mallets to create a softer, almost orchestral feel.
The blend came together particularly well during the second set, when Peter switched between his regular trumpet and the piccolo version. Listen out for Raise Four, which Peter described as the most irritating of Thelonious Monk's tunes. He's clearly drawn to seeing how far he can push himself and the audience in that regard.
Also on the programme we had new music from UK pianist John Escreet and the great Archie Shepp revisiting one of his own classic 70s recordings. Oh and just a quick reminder that you can apply for tickets for our LJF opening night extravaganza at Ronnie Scotts by following this link. Please note that it's a random ballot and applications do not guarantee a ticket.
Jez