The plane flew north towards Reykjavik. I was heading for the Dark Music Days, a festival celebrating the wealth of contemporary music making in Iceland. My compass is pretty permanently set to North, but it's usually to Norway, and this was my first ever visit to Iceland. I suppose, in my mind, I was expecting the gradual onset of darkness during the journey. I had memories of my visit much further north to Svalbard, where it felt as though we were leaving the planet as the darkness and icy landscapes below were unlike anything I'd ever seen before.
As we approached Iceland, though, there wasn't a hint of darkness, just a pink tinged light, and the coastline below looking like a slice out of a wedding cake topped with gleaming white icing. 
It's about 50 minutes drive from Keflavik airport to the capital, Reykjavik, and this lack of darkness occupied my attention most of the way. It was late in the afternoon yet the snow covered mountains in the distance were so bright while the flatness of the land we drove through was like a snowy covered moonscape. Desolate yet beautiful, no trees, an inviting sort of eerieness.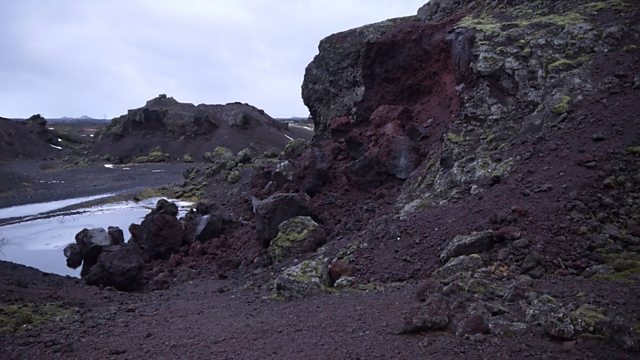 Lava Field
It was a quick turnaround to get to the evening's concert with the Iceland Symphony Orchestra conducted by Ilan Volkov, in Reykjavik's new iconic concert hall, Harpa (below).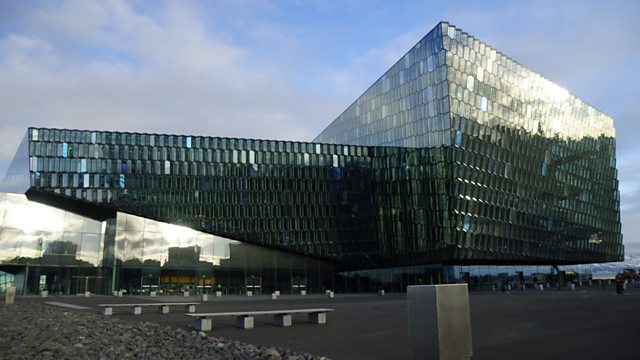 Harpa Concert Hall - Reykjavik - Exterior
Approaching it in the, now, darkness, the much talked about glass hexagonal tubes which wrap the cliff-face like sides of the building were twinkling greens, pinks and yellows. Its breathtaking impression continues inside (see below) where shapes and glass continue to defy concert hall convention. Harpa is a testament to Iceland's belief in creativity through the banking crisis of 2008, a monument to imagination and vision.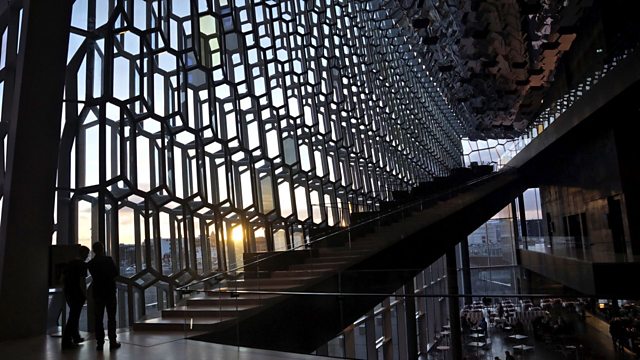 Harpa Concert Hall - Reykjavik - Interior
It was clear from this opening concert that here were people who welcomed new music and the need and enjoyment of having a platform for it. There was warmth towards each composer, and while everyone had their favourites, there was little to be seen of the judgmental backbiting that can smother such occasions. Much had to do that night because of Ilan Volkov's warm engagement with the audience, just the right blend of welcoming, knowledge and humour. Before the night was out I'd talked to the Festival Directors Kjartan Ólafsson and Pétur Jónasson and met the team from Music Export Iceland led by ex Sugarcubes drummer Sigtryggur Baldursson. I was already feeling quite at home.
The following morning took me to a place I've wanted to visit for a long time - the Bedroom Community label HQ where Valgeir Sigurdsson (who did a great Late Junction session with Pekka  Kuusisto a few years ago) showed me around the Greenhouse Studios. From the outside it's like any other house in the cul-de-sac on the outskirts of Reykjavik. Inside, it's a cavern of musical delights, a hub of creativity and the important things any studio has: a large kitchen table, a chandelier and a 1920s Broadwood. Paul Corley was in town doing some mixing and spoke warmly about making his debut release on Bedroom.  It's about feeling you're artistically in the right place, with a signature sound, and, well you can't argue about the views over to the snow-clad mountains. Valgeir, Paul and I are in the photo below.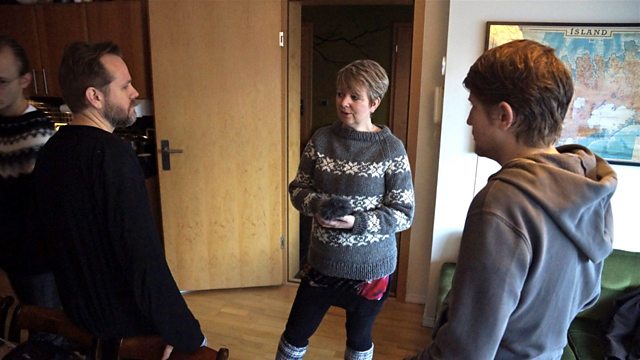 Valgeir Sigurdsson, Fiona Talkington and Paul Corley
A lunchtime piano recital back at Harpa by Þórarinn Stefánsson was based around pieces inspired by an Icelandic folk tune, and I wondered again about Icelandic folk music, its history and the current state of play.  I went over to the University to visit Rosa Thorsteinsdottir(below), an archivist with expert knowledge about the ancient rimúr tradition, the practice of telling stories, chanting, singing or speaking, usually in the home, late at night, while fishing nets are being mended, socks knitted, or babies soothed. 'Rather like a Late Junction programme of days gone by,' someone grinned at me!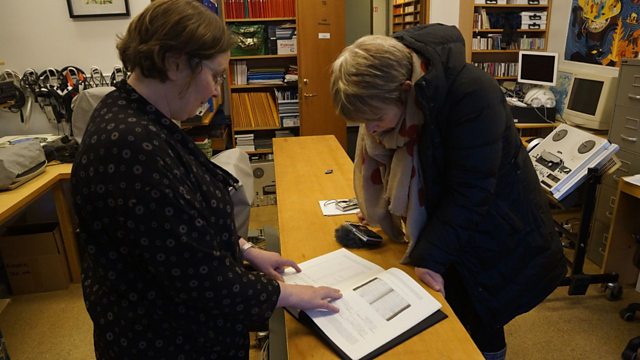 Rosa Thorsteinsdottir and Fiona Talkington
I also met composer and folk singer Bára Grimsdóttir and her husband, UK folk musician Chris Foster, who, between them, have a good understanding both of the Icelandic folk tradition and where it is today, and left me with the impression there is yet a lot to be uncovered and celebrated.
Harpa proved to be an interesting hub with the Dark Music Days concerts rubbing shoulders (in one of the other halls) with the Icelandic finals to chose a song for Eurovision. Very graciously they told me they would be certain to come last. I assured them that they probably wouldn't!
I learned that Late Junction is much admired in Iceland and I, in turn, was very impressed by hard-working colleagues at RUV, Iceland's National Broadcasting, who managed to get me some recordings I wanted. I had been very taken with Nordic Affect, an award-winning ensemble who perform contemporary music on Baroque instruments, and had chatted with their (Australian) flautist Georgia Browne (below).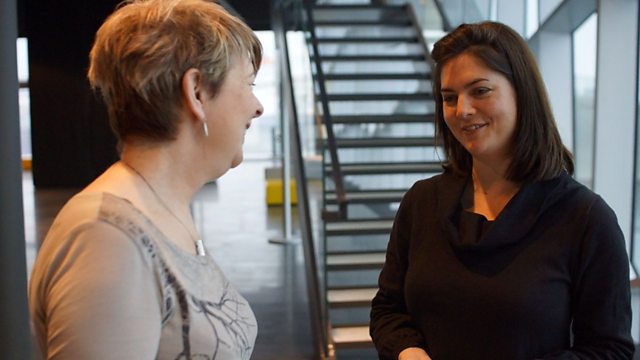 Fiona Talkington and Georgia Browne
I very much enjoyed meeting the composer Hafdís Bjarnadóttir (below) whose music I'd heard performed by the famous Hlómeyki Chamber Choir. She kindly invited me to her house for pancakes and to listen to part of the music she's composing based on the knitting pattern for a traditional Icelandic shawl. Different sounds and rhythms for different types of stitch, and, for the lacey part a glissando and – silence! – a hole! It was really rather beautiful, and I told her I was looking forward to the fanfare at the end when the shawl would one day be finished!  The surprise she had up her sleeve for me was a visit to Sigur Ros's studio, made out of a disused swimming pool, and a stop, in the pouring rain, to look at huge lava formations, greys, greens and reds, whose shapes must have played a part in the imagination of the writers for sagas.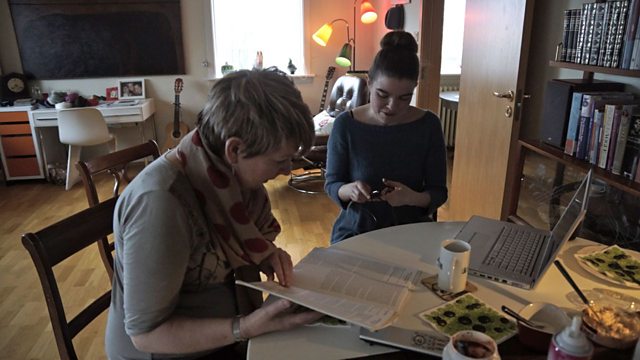 Fiona Talkington and Hafdis Bjarnadottir
I came away with a real desire to return. Reykjavik is musically vibrant, exciting, welcoming, crazy in a good way. I loved the colours of the clothes, bright and jewel-like. I loved the space-rocket shaped church (the Hallgrímskirkja), and I even liked sitting in a hot pool on a roof in the freezing horizontal rain.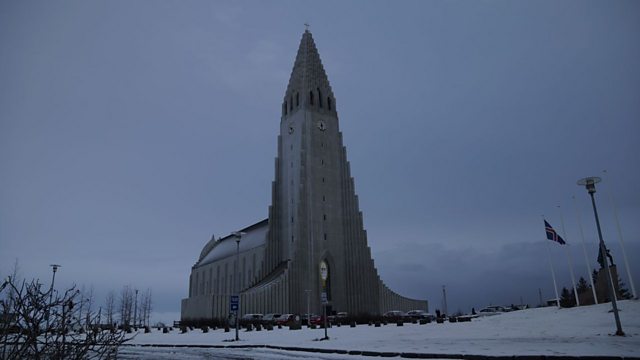 Hallgrimskirkja, Reykjavik
I was fascinated by Iceland's geographical situation, where the pull between New York and London seems equidistant, and by the geology, and I'm indebted to journalist and broadcaster Hilary Finch who was there at the time for sharing some of her 30 years worth of Icelandic insights with me. Her description of imagining you're standing astride the ever widening tectonic plates will stay with me forever, one foot on the North American plate the other on the European. It's sort of humbling.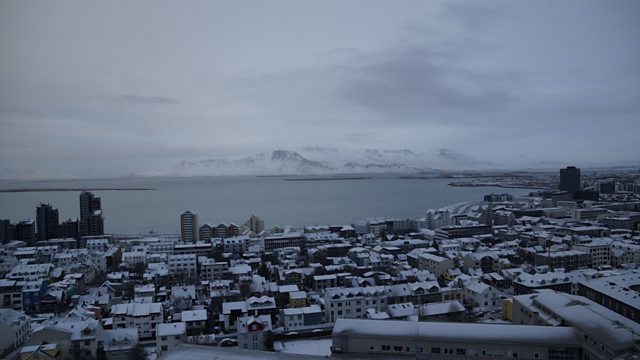 Reykjavik skyline
Photos by Lyndon Jones. You can hear music from Iceland in Late Junction in the weeks beginning Tuesday 26 February and Tuesday 5 March, and Fiona will be at Ilan Volkov's Tectonics Festival with the BBC Scottish Symphony Orchestra in Glasgow in May.