Jez Nelson writes about this week's Jazz on 3, available now on the iPlayer
50 years since the American Civil Rights Act was signed into law, the emotions and symbolism of the Movement continue to inspire avant-garde jazz – and it's the subject at the heart of this week's Jazz on 3. Our featured performance is trumpeter Wadada Leo Smith's Ten Freedom Summers, a stunning collection inspired by the spirit of the era, captured at last year's London Jazz Festival. We also mark the passing of jazz poet Amiri Baraka, whose writing reflected his own deep involvement in the struggle.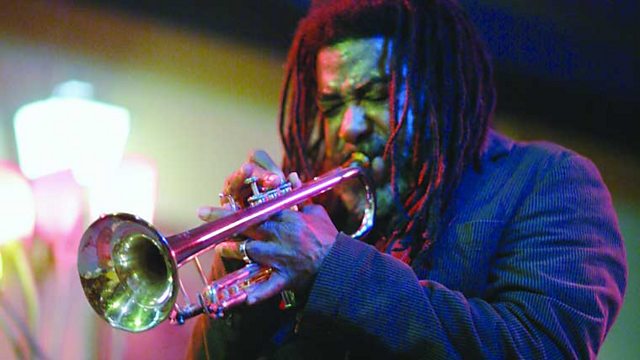 Wadada
Since its American premiere in 2011, Wadada Leo Smith's masterwork Ten Freedom Summers has grown to over seven hours of music, inspired by key figures and events in the Civil Rights Movement. Its European premiere was held across three nights at London's Café Oto – the highlight of the festival, according to my guest this week, Kevin Le Gendre. In our coverage of the second night, Wadada's Golden Quartet – featuring Anthony Davis on piano, John Lindberg on bass and Anthony Brown on drums – are joined by the Ligeti Strings to perform a programme of charged titles, including 'Freedom Summers', 'Medgar Evers', 'That Sunday Morning' and 'Emmett Till'. As in much of Smith's work, the pieces were scored using a mixture of conventional notation and symbols of his own invention, designed to leave plenty of room for improvisation. And Smith did a great job of holding it all together, his trumpet variously invoking the anguish of a community in mourning, the rasp of the preacher and the soaring expression of the era's free jazz commentators.
Amiri Baraka, who died this month aged 80, is perhaps best known as a firebrand activist, but he was also a writer and poet who dedicated his life to documenting and influencing the story of jazz. When Kevin Le Gendre interviewed Baraka for the programme just over a year ago, he discovered a life spent – and steeped – in the politics and music of the Civil Rights era. Extraordinary poems like Bang Bang Outishly sound out the music of Thelonious Monk ('Cardboard piano orchestras/ Singing as if the blues was interplanetary'), while his 1963 book Blues People was the first work on the history of black music to be written by a black author, and the first to consider the music in its social context.
Jazz on 3 - You can now listen online for seven days.
Jez
If you have comments about the show, or requests for music you'd like to hear, do get in touch at jazzon3@bbc.co.uk or on twitter at @BBCJazzon3