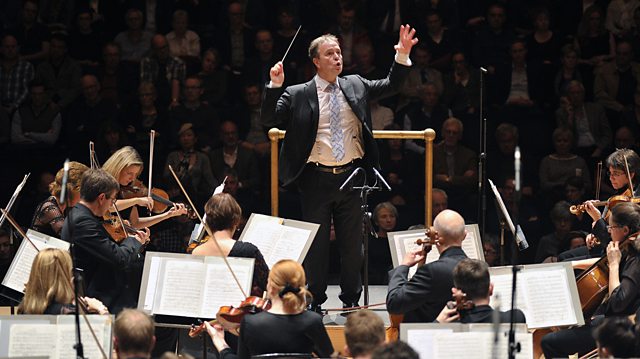 Sakari Oramo at the Barbican. Photo: Chris Christodoulou/BBC
BBC Symphony Orchestra general manager Paul Hughes presents a personal diary of the week running up to chief conductor Sakari Oramo's debut concert in the role at the Barbican Hall.
Almost two years ago, Sakari Oramo made his first appearance on the podium with the BBCSO in a programme that included Sibelius symphony number 3.  It wasn't just that he excelled in this particular music, but the chemistry with the orchestra was palpable.  He created a tremendous buzz in his music-making while dissipating the tensions that can often surround a concert with a new conductor - all of this clearly communicated itself to the audience. 
Cut to this week and Sakari is making his first Barbican season concert as the orchestra's Chief Conductor - number 13 following an illustrious list of predecessors and although he has already inaugurated the position at the Proms with two memorable concerts, it is at the Barbican where the relationship will most thoroughly and fully evolve.
Unusually, given his low-maintenance style, Sakari arrived needing to see a doctor; nothing serious, but just troublesome enough to take his mind off the business of making music.  The ubiquitous antibiotics were prescribed and business continued as usual.  Watching Sakari rehearse is an object lesson in how to prepare any concert.  Thorough, detailed work on balance, colour, texture, shape in an atmosphere that is focused, concentrated and good humoured builds, session on session over the days in Maida Vale Studio 1.  Never the most comfortable or rewarding environment in which to work, the smiles on the musicians' faces at the end of a rehearsal is evidence enough that the magic is continuing, and I am sure we are in for a very special concert.
In his room, at the end of the day, Sakari is calm and relaxed, and reflects on the work that still needs to be done for Saturday's concert and more generally in the years ahead.  We talk about the players who are on trial for positions within the orchestra and his views, after so many years as a distinguished orchestra leader as well as conductor, are insightful and valuable. I ask him about our guest principal double bass player who has the famous 'Frère Jacques' solo at the beginning of the third movement of the Mahler symphony and he tells me it is beautiful - 'too beautiful', he laughs.
Tristan Murail has arrived to attend rehearsals for his world premiere - a wonderful, charming, quietly-spoken man whose music is the most thrilling, precise, perfectly-judged box of musical fireworks that suits the BBCSO ideally.
The final afternoon of rehearsals is devoted not to the Barbican concert but to the studio concert that will take place on Monday, and focuses on Britten's brilliant but notoriously tricky string-only Variations on a Theme of Frank Bridge.  I sit in on rehearsals as I will miss the concert, and what a pleasure it is to see a string player directing this work and making such wonderful music.  We have another guest leader who is clearly as popular as Sakari himself and who, at the end of rehearsals, goes off into a paean of praise for Sakari's compatriot and friend, Esa-Pekka Salonen.  I wonder what Sakari is thinking...
And so the day of the concert arrives.  It has been a morning rehearsal followed by our senior stage manager Rupert Casey having to break down the stage for our colleagues at the LSO to rehearse, and then rebuild it for our evening concert.  I arrive at 6pm and find Sakari lying on the day bed in his room, doing battle with the packaging on a new pair of white braces, and complaining that his taxi driver got lost on the way to the hall, and had to be directed by the maestro, and the traffic was bad.  He seems relaxed, but the taxi incident has clearly bothered him.  I make a mental note to speak to our transport people - it's not uncommon to find drivers who have no idea where they are going or how to operate a satnav device.
There's a great buzz front of house from a large audience and the concert is everything I could have hoped for, and more.  A magnificent world premiere, two amazing virtuosi performing Shostakovitch's Piano Concerto No.1 - pianist Olli Mustonen and Sakari have made music together since they were 15, and the rapport is evident.  Olli's somewhat flamboyant pianistic style isn't to everyone's taste and I love his playing, but I can see some press colleagues shaking their heads as they prepare to knock another star off the concert rating!  
Mahler's Symphony No 1 is  a work we have played regularly over the years, but probably not for 6-7 years.  Sakari's reading of it makes me think I am hearing it afresh and at times I am moved almost to tears by the music making.  A triumphant finish to the concert, cheers, repeated bows, and I am reassured, if reassurance were needed, that this is going to be an exciting and thrilling partnership.
Backstage in Sakari's room he is greeting his guests, smiling confidently, embracing his father who simply says 'maaginen' - 'magical'.  And he's right; it was magical. The smiles on the faces of the BBCSO musicians tells me all is right with this musical world.  And one of the most endearing traits of our musicians is that they communicate their enthusiasm to Sakari directly, thanking him for the concert.
There is a reception after the concert co-hosted by the Barbican's managing director, Sir Nicholas Kenyon, and I to welcome Sakari to the Barbican.  Friends, colleagues, musicians join us and a few words are spoken to reinforce the message that this is now the place to be for exciting music making. 
A quick bite with friends in a local restaurant and in bed by 1am - a happy general manager.