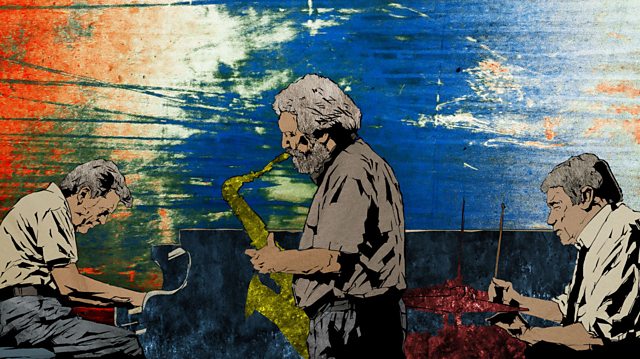 The Schlippenbach Trio. Illustration copyright Naiel Ibarrola
Recorded at last year's London Jazz Festival, pianist Alex von Schlippenbach, saxophonist Evan Parker and drummer Paul Lovens are a prime example of a group who continue to surprise and inspire each other even forty years after their musical journey together began. Touring every year since the early 1970s the trio now share almost telepathic reactions – drawing their vocabulary from the full swathe of jazz and free music history with quick-witted spirit, fire and spontaneity. Their improvised set at the Southbank's Purcell Rooms was as energetic and creative as ever – and watch out for some brilliant solo moments from Evan in particular. BBC Radio 3's Tom Service also joins me in the studio to talk about the gig and the band's performance with Noszferatu, broadcast on Hear and Now, available on iPlayer all this week.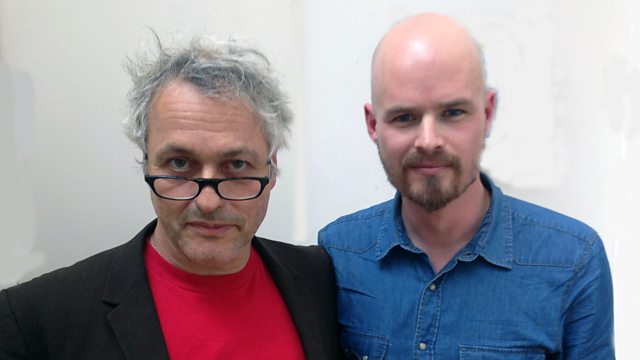 Marc Ribot and Chris Sharkey. Photo: AW
'Sometimes I wonder whether there's any continuity between Marc Ribot in the morning, and Marc Ribot in the afternoon,' is a telling self-admission from the guitarist and composer who turns 60 this year. His varied and illustrious career – both as a sideman and leader – spans more genres than many can list with collaborators ranging from Tom Waits to John Zorn. It's fair to say that diversity could well be Ribot's defining factor, yet there's always been something about his restless energy and visceral approach that's marked him out from the crowd. British counterpart and fellow six-stringer
Chris Sharkey
drills deep into these theories in a wide-ranging interview. Topics include the best guitar solo in the world, the studio secrets of Mr Waits, learning the guitar the wrong way round, and the politically charged flavours of Ribot's rock band Ceramic Dog. Of course, as you'd expect when you put two guitarists in a room together, things end up with a bit of a jam. We've also time to visit a brilliant JO3 archive performance featuring Ribot alongside Evan Parker and Instant Composer's Pool drummer Han Bennink at 2009's Meltdown Festival.
In addition to all this we kick off this week's programme with a very exciting exclusive from British experimentalists Polar Bear, previewing their forthcoming album In Each and Every One.
Join me for all of this on Monday 27 January from 11pm, or listen online for seven days after broadcast.
Jez
If you have comments about the show, or requests for music you'd like to hear, do get in touch at jazzon3@bbc.co.uk or on twitter at @BBCJazzon3.