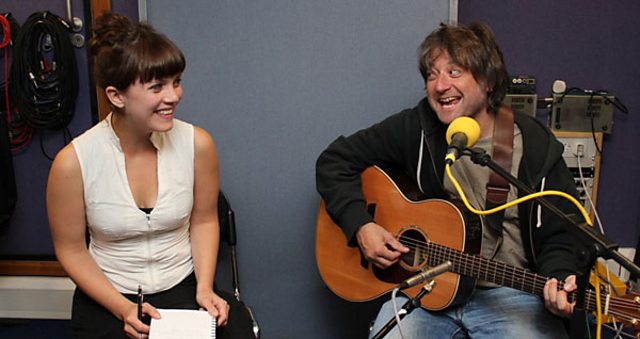 Amy MacDougall and King Creosote
The Late Junction team are preparing for their last gig in Edinburgh. Producer Georgia Mann-Smith has been running on shortbread as she holds the fort ...
It's Late Junction's last night here at The Edinburgh Fringe and after some late night hill-walking, extensive shortbread consumption, the odd private performance of ancient Japanese court music and eight Mongolians bringing the sparkly ceilinged house down - it's been an eventful few days. But it's not over yet ...
Producer Roger is currently cutting together audio from last night's excursion up Arthur's Seat - Edinburgh's impressively craggy hill - which has been playing host to Speed Of Light, an event which has seen groups of runners setting off up the hill at dusk with sound emitting light staffs which have not only lit up the night sky but generated an ambient sound track for good measure. Our presenter Verity Sharp joined Speed of Light runners and walkers before hosting our programme live from The Tun, the BBC's Edinburgh HQ, yesterday evening. While she and Roger put their walking boots to good use, I was in the studio holding the fort - and consuming generous amounts of Scottish confectionery. I must admit to feeling a little nervous when I still had no Verity at 11.00 pm (we went on air at 11.45), but thankfully she made it back in good time to host a packed 45-minute show, with guitar fireworks from the now legendary John(s) Williams and Etheridge as well as Mercury Prize-nominated King Creosote and singer Amy McDougall bringing that uniquely Scottish brand of vocal purity to proceedings.
Before things kick off this evening we'll be going to pick up a carpet for our Azerbaijani superstar Alim Qasimov and his ensemble, then we'll need to get the piano tuned on stage at the Big Sparkly BBC Tent so that it's ready for use by both top Scottish new music band The Hebrides Ensemble and vampy chanteuse Camille O'Sullivan who will all be joining us to play live from 11.00 this evening.
And I'm very much hoping to get a set list from the brilliant Scottish singer-song writer Dick Gaughan any minute now, whatever he decides to play will be well worth tuning in for. We'll be sad to pack up our Late Junction suitcases but as we head down the hill and out of Edinburgh, we've got great memories of Mongolian Wind Horses, Gagaku and the odd malfunctioning light staff.