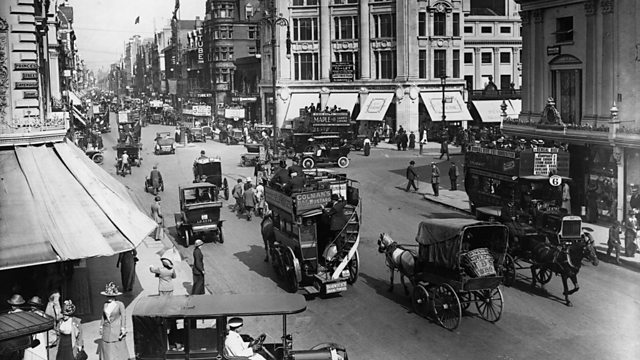 London: Oxford Street Traffic
Radio 3's special season – WW1 - Music on the Brink – beganwith Private Passions and continues until Saturday 11 January. Many of our programme strands this week are devoted to this fascinating period of history, as the geopolitical, economic and cultural currents of 1913-14 gathered into a cataclysmic storm.
There is a wealth of material available online to support the broadcasts, including extensive picture galleries from the five European capitals which are the focus of attention this week, plus downloads, and sound and video clips of music and speech, many of which will remain available on the website in perpetuity.
Here is a quick guide to finding the content.
Radio 3 Programme Highlights
Private Passions – Listen again as Michael Berkeley talks to writer Pat Barker, who is fascinated by the First World War; for twenty years now, her award-winning novels have returned again and again to the trauma and grief and erotic intensity of wartime. Also available now as a download.
Words and Music – The world on the brink of war in poetry, letters, diaries and music. The readings, by Samuel West and Carolyn Pickles, include work by Proust, Stefan Zweig, John Masefield, Isaac Rosenberg, Adelaide Mack and Edmund Gosse with music by Satie, Ravel, Zemlinsky, Berg, Rachmaninov and Webern.
Somme – Paul Farley journeys down France's sleepiest river, whose character belies its violent history. Available now. Also available now as a download.
Breakfast – Correspondents from across Europe shine a light on music making across the continent as it was in the period just before the outbreak of the First World War.
Essential Classics – Each day this week Sarah Walker and her guest, historian Charles Emmerson, relive the sounds of a different European capital – Paris, Berlin, Vienna, St Petersburg and London – at this momentous time in history.
Composer of the Week – Vienna on the Brink: Donald Macleod presents a picture of the most exciting cultural city in the world in the early 1900s: home of Mahler, Schoenberg and Freud.
In Tune – This week In Tune receives five postcards from different cities, reflecting life in the European capitals on the eve of WW1, read by Jonathan Pryce. Postcards are available as downloads.
Free Thinking – Radio 3's new discussion strand, Free Thinking, takes the cultural temperature of the European capitals, with contributions this week from novelists AS Byatt, Margaret Drabble and William Boyd, the film expert Neil Brand, cultural historians Alexandra Harris and Philipp Blom, Professor Roy Foster, the journalist and author Nick Cohen, Baroness Shirley Williams, Duncan Brack of the Liberal Democrat Party History Group and the author Bea Campbell.
The Essay – Five BBC News correspondents present personal perspectives on the capital cities. Episodes are now available as downloads.
The Verb – Ruby Dolls perform cabaret typical of that heard in Le chat noir in 1914, Kevin Jackson describes a fantasy meeting between writers of the age, and George Szirtes explores the work of Rainer Maria Rilke.
Throughout the week, Radio 3's concert programmes will feature music from the immediate pre-War period, including Tom Service's Modernist Moments - episodes are now available as downloads.
You can find other WW1 content here:
Charles Emmerson's Twitter Q&A - Writer and historian Charles Emmerson negotiated his way through a whole host of questions regarding music, technology and transport in Europe on the brink of WW1.
WW1 - Music on the Brink Downloads – Highlights of BBC Radio 3's special programmes to mark the WW1 centenary. Classical music, art, literature, film, popular songs and cultural life inspired by the war, explored in interviews and documentaries from Radio 3's regular programmes.
WW1 - Music on the Brink Collection – Clips, interviews and programmes on R3's exploration of the musical world of January 1914.
WW1 - Music on the Brink Galleries – Collections of contemporary photographs from Vienna, Paris, Berlin, St Petersburg and London.
The BBC's WW1 Portal page – Bringing together all of the BBC's speical content across all networks.
The BBC's WW1 Centenary plans – Introduced by director-general Tony Hall
Subscribe to the BBC's WW1 Newsletter
This Blog will be updated throughout the week with further news of programmes and extra WW1 – Music on the Brink online features.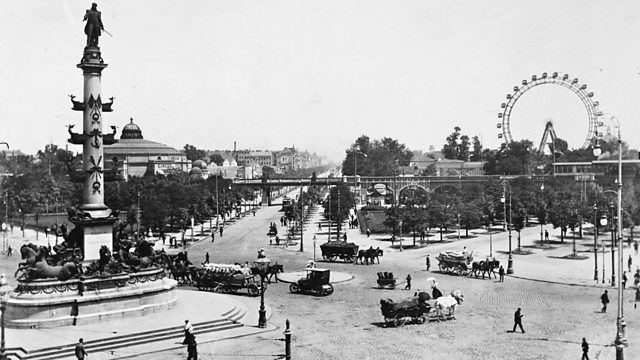 Vienna: Praterstern