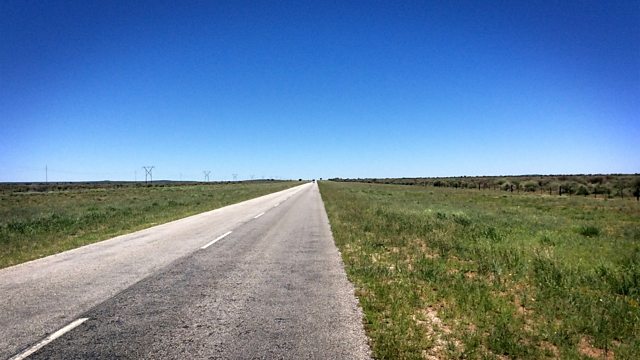 Namibia
What strikes me about Namibia is how flat it is, with endless straight roads. That, and the roadside warnings for Warthogs.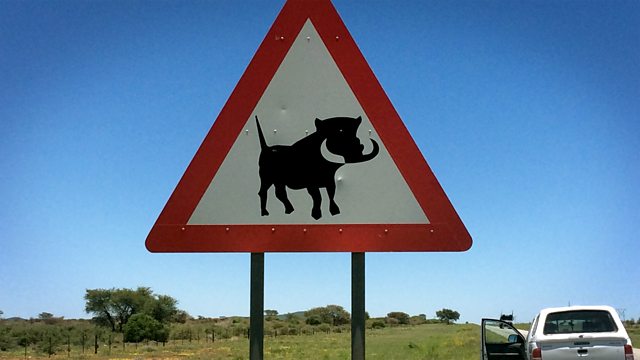 My colleague Roger Short and I arrive at night; several bats are flying around outside the airport and a couple of large black beetles scuttle into the arrivals lounge, alongside the passengers.
We drive to Zelda Game Farm, close to the Botswana border; to meet a Nharo family, one of the many indigenous hunter gatherer communities of southern Africa, sometimes collectively referred to as the San. They have one of the oldest genetic lineages stretching back thousands of years, from which all modern humans may originate. One thing is certain, they are some of the warmest and friendliest people we meet on our trip.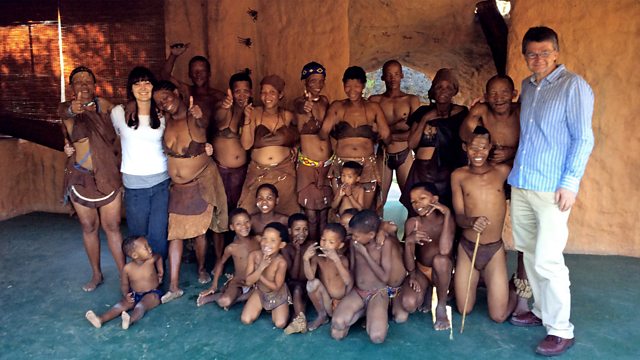 the Nharo family
Over the course of several hours, they share their songs, dances, stories and traditional crafts with us – something they do for anyone visiting the area. After years of displacement and changes to their way of life, they are keen to preserve a largely oral tradition, and cultural tourism seems to play an important part in this.
Xasa speaks to us in beautiful and rhythmic Xhosa, also known as the 'click language'. The various southern Africa languages and speech patterns that I hear throughout our trip seem to connect directly to the music. It has a heartbeat through it unlike any Western Music I've heard - whether through obvious rhythmic dancing and clapping or the natural punctuation of the languages of the songs.
For most of the performance Xasa and the other women in her family sit in on floor and the men dance and move round them in a circle. The moth cocoons wrapped round the men's ankles act as shakers, adding to the rhythmic clapping and singing. The whole thing becomes quite hypnotic – very in keeping with the healing trances used by the elders.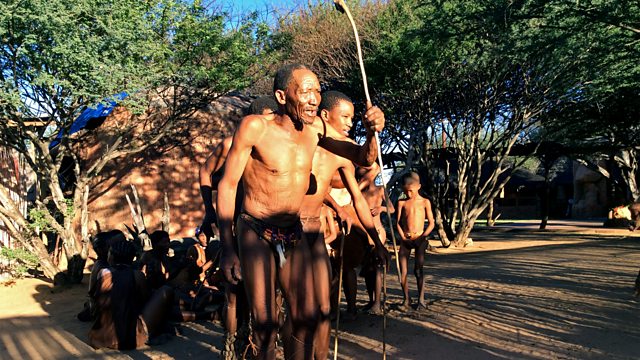 Back in Namibia's capital Windhoek, we meet singer-songwriter Elemotho. Born and raised in the Kalahari, he is now an international artist. His songs carry the traditional musical styles of Namibia; chanting from the San, praise-singing and storytelling from his grandmother, as well as rhythms heard on the radio from Zimbabwe and the Congo.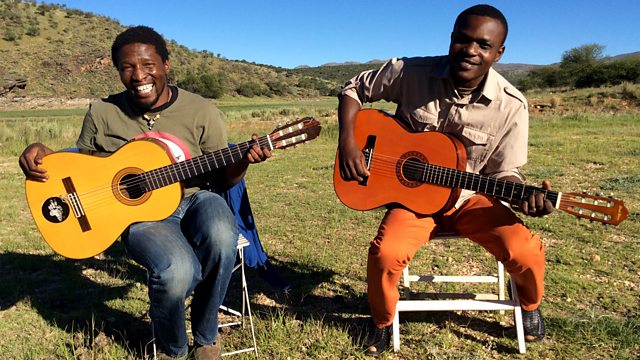 Elemotho and Sam
'I'm interested in the power of words' he tells me. Elemotho grew up under Apartheid, learning Afrikaans at school – one of several languages he speaks, including English and Setswana. His father spoke 10 African languages and his brother speaks 7. Elemotho wants his children to be equally multilingual. 'But some songs I can only sing in Setswana – they don't work in any other language'. He explains the lyrics of one of his songs. It uses a traditional phrase about listening to the Elders, and combines it with more modern ideas of personal conscience and democracy. 'Basically it means people be free', a relevant sentence in this young country. As I listen to his singing, I might not understand the words, but the musical message is crystal clear.
Laura Metcalfe
Commonwealth Connections is broadcast on BBC Radio 3 as part of World On 3 (Friday 11pm-1am) the series runs until the Commonwealth Games in Glasgow this July.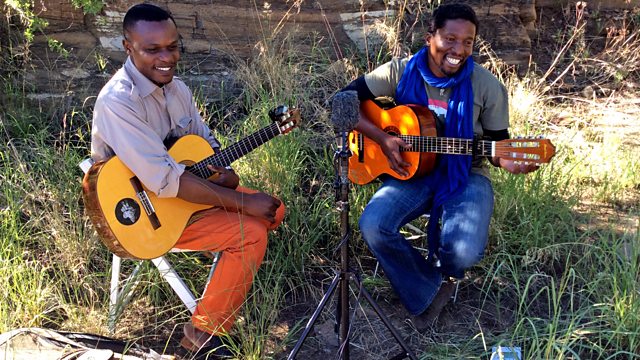 Recording Elemotho and Sam at Avis Dam, Namibia