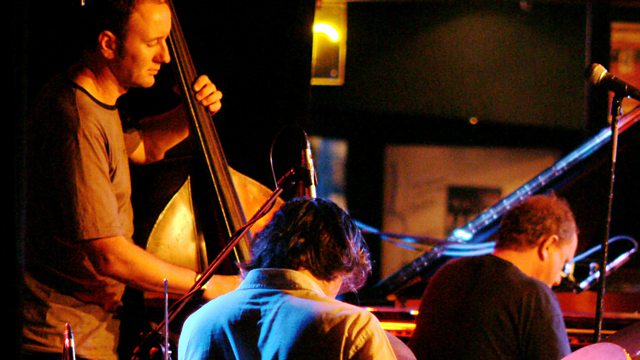 The Necks. Photo: Tim Williams
Not many groups evoke in their fans a sense of wonder (like when contemplating the vastness of space and time, rather than what to pick up for dinner) but Australian trio The Necks, source of this week's live music, are one. Talking to fans at Café Oto last week, many of whom had booked tickets for all three nights of the residency, this is music that raises many questions: How are they able to perform so seamlessly without looking at one another? When the basic format is always the same – mesmerising, repetitive improvisations that evolve slowly over the course of an hour to an epic climax – how are they able to keep things so fresh? How do three guys create such a multi-layered sound? And how do they know when to finish?
Talking to Tony Buck and Lloyd Swanton in the studio (listen out for the full interview in the programme) it became clear that this unique brand of alchemy has matured over 25 years of playing together. Their musical words are quite diverse, although linked by a shared love of jazz: Chris Abrahams' piano motifs veer from the impressionism of Ravel to dark electro, Lloyd introduces world dance rhythms on his bass and Tony brings an avant-garde, industrial aesthetic to his drums. Together, they create an immersive, billowing fabric of sound that comes close to inducing a trance – it's not uncommon to see people swaying repetitively with their eyes closed, at times even toppling off their seats.
I discovered that there's a running joke they tell each other before they go on stage. Someone asks, 'Have you got any ideas?' to which the answer is always, 'No, none'. It's a way of reminding each other that each performance is a completely blank canvas, a new story to tell. And in an age where we're told there are only seven basic plots, The Necks weave infinite narratives.
To hear them, join me on Monday 11 November at 11pm, or listen online for seven days after the broadcast.
Jez
If you have comments about the show, or requests for music you'd like to hear, do get in touch at jazzon3@bbc.co.uk or on Twitter '@BBCJazzon3'.