Rudresh Mahanthappa first came to my notice a good few years back in a duo with New York pianist Vijay Iyer. From the off he stood out – a powerful, fleet fingered saxophonist with a musical vocab that has as much to do with the Southern Indian music of his ancestry as it does the M-Base sound of his downtown New York home. This week we welcome Rudresh back to Jazz On 3 with a group comprising drummer Dan Weiss, bass player François Moutin and guitarist David "Fuze" Fiuczynski. The name of Dave's own group – Screaming Headless Torsos – gives a hint to this double-necked axe-man's approach.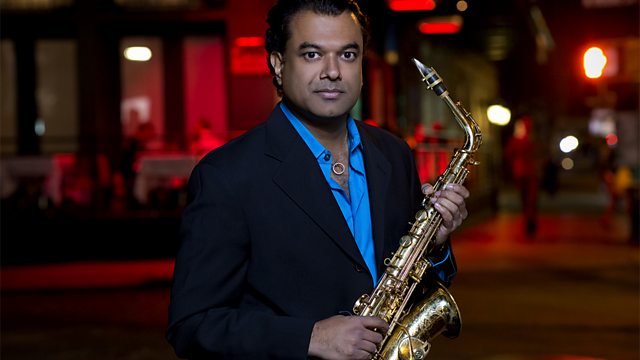 Over the course of some thirteen albums, alto-saxophonist and composer Rudresh has explored the music of his American-Indian heritage from all angles. Today, Carnatic music, and other Indian music traditions are an integrated and effortless part of his language. This group – who play music from Mahanthappa's recent album, Gamak – shine with a virtuosity and brilliance you might associate with the very best of jazz rock. In fact as Rudresh tells me in a pre-gig interview he grew up on the music of Yes and prog is a major influence. Add an exploration of micro-tonal musics from around the world; something David Fiuczynski has become known for, and subtract any notes surplus to requirements and, as you'll hear, Gamak is a wholly new kind of fusion.
To close the show, something completely different. In fact that would be true whatever the context, because Kate and Mike Westbrook have, over several decades, developed a language that's absolutely their own. As they celebrate their 40th year of collaboration they give us an insight into their musical lives and a glimpse of new project The Serpent Hit.
Tune in from 11pm on Monday 23 September or listen online for seven days after broadcast.
Jez 
If you have comments about the show, or requests for music you'd like to hear, do get in touch at jazzon3@bbc.co.uk or on Twitter '@BBCJazzon3'.