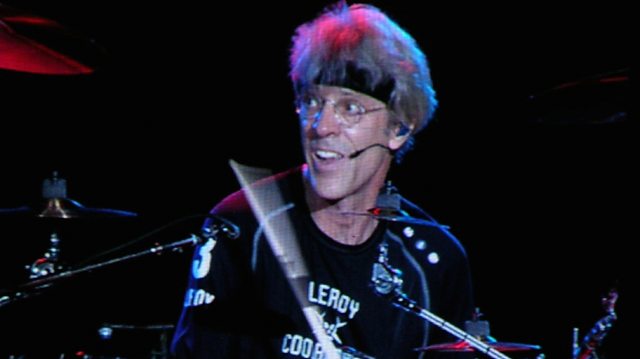 Drummer and composer Stewart Copeland
This week on Essential Classics, Rob's guest has been drummer extraordinaire, Stewart Copeland. As a producer on this programme I'm fortunate to meet many fascinating people from all walks of life, but as a (somewhat lapsed) percussionist, getting Stewart on the show was a particular thrill. Ask any drummer and they'd agree that Stewart is one of the very greatest there has ever been. Period. Just watch this clip from the heyday of The Police. As someone commented under the clip "Perhaps the most inventive drummer in history. I could just listen to the drums and still be entertained."
As it happened, we couldn't manage to find a time to interview Stewart in London, so it was recorded via ISDN in a studio in his hometown of Los Angeles. Given the 8 hour time difference, we were initially concerned that even with a late shift here in London, asking a rock god to start an interview by 9am might be a tall order. However we needn't have worried as a fully caffeinated and very charismatic Stewart appeared on the line at 8.30 sharp and recorded a fantastic set of interviews with Rob.
A multi-faceted musician, Stewart has spent the past 30 years since The Police split up working as a composer across a very wide range of genres including opera, film and TV. One of the many topics of discussion was the upcoming world premiere of his new percussion concerto on May 23rd in Liverpool. There's a nice interview in the Liverpool Echo in which Stewart tells all.
If you missed any of the interviews from Essential Classics this week the complete set are available here until Monday. They really are a great listen and Stewart was refreshingly upfront with some of his opinions – try this clip and you'll see what I mean. If you are pressed for time we have also created our regular guest interview podcast which contains highlights from across the week.
Finally, I thought I'd compile a few video clips that I hope prove interesting:
-        Want to know what rock stars private studios look like? – Stewart's looks like this
-        An interview with Jools Holland from his time in The Police. One for drummers in particular.
-        Amazing drum solo from 2012 when Stewart appeared on The David Letterman show
-        More outrageous drumming skills with bassist Stanley Clarke
 If you have any comments please do leave them below, or you can get in touch via email or Twitter:
Email: essentialclassics@bbc.co.uk 
Twitter: #essentialclassics