BBC Symphony Orchestra sub-principal viola Phil Hall reports from Stage 2 of the Orchestra's Middle and Far East tour
As we deplane from our flight to Tokyo a bit dishevelled, it dawns on me that I really should read the schedule properly. We are not actually going to stay the night in Tokyo at all but get on buses for the 2hr trip south to Yokohama. This realisation fills me with almost as great a sense of despair as the queue for immigration.
Phil with the giant Buddha. Photo: Nikos Zarb
But a couple of hours later and the BBCSO sleepwalks into Japan's second biggest city and after a rejuvenating shower we head out to the harbour for dinner. I think my group has a contender for the weirdest restaurant of the tour award as it contains beds along both sides with couples sitting on them eating from trays. I shouldn't have been surprised: this is the country that has Cat Cafes, where you can sip a latte, watch You Tube and stroke any number of friendly felines all at the same time. Only in Japan. Happily there is just time to get out to nearby Kamakura where some of us visit the Shinto shrines, parks and temples and the 13th-century giant Buddha which is all that has survived of the Kotokuin Temple after a Tsunami in 1498.

Waking at 4am can have its uses (writing blogs for example), but later at the Minato Mirai Hall I discover that almost no-one has had much sleep. Trumpeter Martin Hurrell claims he had 8 hours but it took him until 5am to get it! But our first rehearsal on Mozart's 'Turkish' violin concerto with the sweet-sounding Mayuko Kamio focuses the mind. She is Japanese elegance and charm personified and the audience adore her too. They also seem to appreciate the Vaughan Williams and it glows beautifully in the hall (something of a relief after the dry desert acoustic). Similarly Stokowski's string arrangement of Dido's Lament allows Susan Monks' cello to sing out beautifully.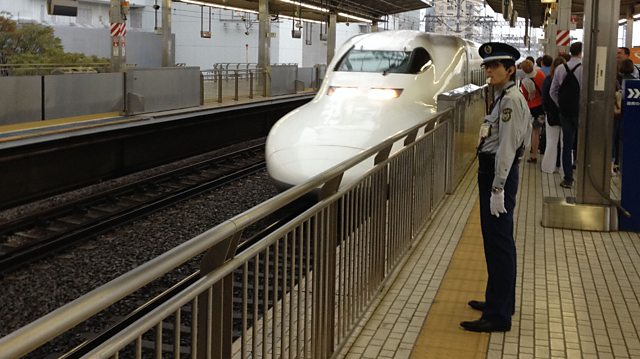 Shinkansen: the BBC SO's 'bullet train'. Photo: Nikos Zarb
Next morning we head to Yokohama station to board the 9.52 Shinkansen (Bullet train) and pass dormant volcanoes at 200kmh accelerating our way to the city of Toyota (no car puns please) and rev up for an afternoon concert. The first thing I notice is a preponderance of Petrol stations and I see that petrol sells for just 80p a litre here (Qatar was a sobering 17p, cheaper than water).
The concert commemorates 15 years of links between Toyota and Derbyshire. Idling backstage I'm hopeful for a Japanese take on a Bakewell Pudding but have to contain myself with the usual staples: cold tea and miniature Oreos.
The concert hall is very warm both acoustically and temperature-wise, and so too is the audience, two of whom are brandishing a large Union Jack which billows throughout the first piece - Elgar's Pomp and Circumstance March No.1. I think they may have seen us on play it on the telly and wonder if they'll be waving it in every piece.
Before long, Stephen Bryant's violin solo rises up to usher in the final ravishing G major chord of Vaughan Williams' London Symphony and it's time to say Sayonara to our lovely, welcoming and efficient Japanese hosts once again and wake up at stupid o'clock for the flight west to Seoul and country number three.