Happy New Year!  As we enter 2014, Essential Classics joins Radio 3's week of programmes exploring the music and culture of five European capital cities on the eve of the Great War. And we've also got some vocal delights from our Artist of the Week, Elly Ameling.
Music on the Brink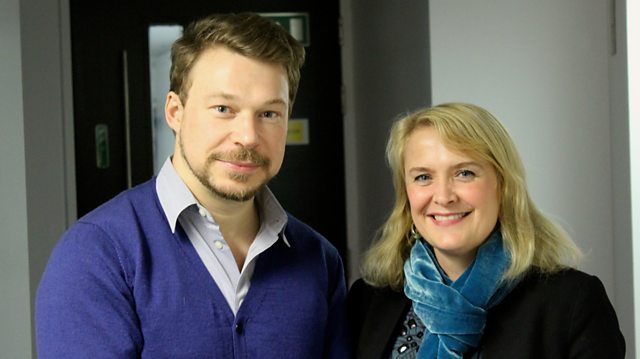 Charles Emmerson and Sarah Walker
Sarah's guest this week is Charles Emmerson, historian and author of 1913 – the World before the Great War.  In his discussions with Sarah – which you can find in a special WW1 – Music on the Brink Collection - Charles details the sometimes surprising and unusual choices of music you'd be able to hear in the chosen cities, as well as portraits of those cities' characters: Vienna, gothic and Third-Man-esque, a bit shabby, a place where popularism and high quality music collide; Paris, the centre of culture, the city of light, a city people looked to for new thoughts, new artistic movements; Berlin, new, loud, brash, industrial, a showpiece of the new Germany, yet also subversive; St Petersburg, financially-booming, cosmopolitan, Russia's window to the West; and London, the capital of the Empire, the biggest city in the world, a city you could be proud of, but not one you would necessarily be keen to live in.
You can hear Charles and Sarah's discussions at 10.30am every day, and complementing these talks, Sarah has a major work linked to each city, which we'll at 11am: Korngold's Sinfonietta; Ravel's Piano Trio; Dohnanyi's Variations on a Nursery Tune; Rachmaninov's The Bells; and Bridge's Dance Poem.  
Artist of the Week
Finally, don't miss our Artist of the Week: Dutch soprano Elly Ameling, who completed her training with the great Pierre Bernac. Hear her in Bach's St Matthew Passion, French music from Satie and Ravel (Sheherazade), and in lieder by Schumann and Schubert.
If you'd like to get in touch about the programme, feel free to post a comment, or you can get in touch via email or Twitter:
Email: essentialclassics@bbc.co.uk
Twitter: #essentialclassics