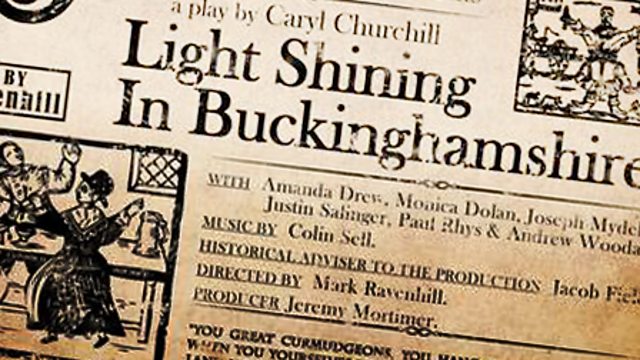 a playbill
What could a group of English Civil War era Levellers, an exploding steam boat in America's Deep South and macho gangsters on the streets of Chicago have in common?
The answer: playwright Mark Ravenhill.
On Sunday 28th April, a new season of classic plays curated by Mark Ravenhill begins on Radio 3. The first Drama on 3 is a production of Light Shining in Buckinghamshire by Caryl Churchill directed by Mark himself.
Mark explains why he chose these particular dramas:
"It's been a fascinating experience curating a season of plays for Radio 3. I chose three plays by favourite playwrights of mine which I've admired for a long time but which I've never seen in the theatre. Boucicault's The Octoroon, a big, warm hearted melodrama, was written just before the American Civil War and tackles the South and slavery in a surprising way. Caryl Churchill's Light Shining In Buckinghamshire explores the possibilities for radical thought and deed during the English Civil War.
And Brecht's early play Jungle of Cities depicts a poetic and savagely funny struggle for survival in early twentieth century Chicago. In all honestly, I simply chose three plays that I love but as I look at the plays now common themes emerge: civil war, ethnicity, money and power. The team at BBC radio drama have been inspiring and committed colleagues in this venture and I hope listeners will tune in for all three, to see if they share my tastes and to join in the debate which these three plays provoke."
Following on from Caryl Churchill's play is a production of Dion Boucicault's The Octoroon set in America's Deep South before the abolition of slavery. The drama was recorded in front of an audience at Theatre Royal Stratford East in April. As instructed, the audience responded loudly to the melodrama- listen in to hear some very enthusiastic boo-ing and hiss-ing at Stephen Hartley's gravel-voiced villain.
Amazingly, The Octoroon had already been performed on stage there during the theatre's first season in 1885. The season concludes with Bertolt Brecht's Jungle of Cities, a gangster movie of a radio drama set in Chicago in 1912.