My monthly Jazz in the Round event made a special appearance as part of the final weekend of the London Jazz Festival, on a special stage built in the foyer of London's Royal Festival Hall.
A stunning line-up of four acts played to a packed audience of aficionados  and passers-by who couldn't believe their luck at bagging a free ringside seat for such great music, much of which you can hear on this week's Jazz On 3.
We start with the invention of a whole new genre! 'Acid-trad' from British quartet Pigfoot led by trumpeter Chris Batchelor. The 'trad' bit means re-interpretations of the likes of Louis Armstrong and Fats Waller; the 'acid' a nod to the band's at times irreverent, wonky approach. Actually, the tunes are very clearly laid out, but when Oren Marshall's tuba is let off the leash, or Paul Clarvis's kit explodes into life, things get a little more anarchic. There are quieter moments – check out Liam Noble's beautiful pizzicato piano intro to Basin St. Blues – but mainly this gets the party off to a jaunty start.
Next up, the vocalist from the best band of another acid-related trend: Carleen Anderson sang with The Young Disciples in the early 90s and performed a rare solo set for us at the piano. She has an extraordinary voice – soulful, free-ranging and not to be missed.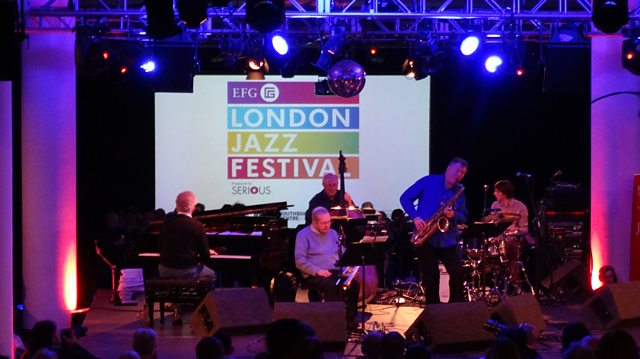 Kenny Wheeler
I was thrilled that one of British jazz's most treasured musicians – trumpeter
Kenny Wheeler
– was able to join us for a set with his quintet. Unsurprisingly, the band was filled with top-draw players – John Taylor on piano, Stan Sulzmann on saxophone, bassist Chris Laurence, and one from the younger generation, drummer Jim Hart. Seeing Kenny being helped onto stage (he's 83 now) was very moving, all the more so when that classic fragile, lyrical flugel sound shone through.
Such was the quality of the bands throughout the afternoon, that we only have time in the programme for a short track from the other set, by one of my favourite American bands of the last few years – John Hollenbeck's Claudia Quintet. But if you like what you hear, listen out for the full set on Jazz on 3 in January.
Join me from 11pm on Monday 9 December or listen online for seven days after broadcast. 
 
Jez
If you have comments about the show, or requests for music you'd like to hear, do get in touch at jazzon3@bbc.co.uk or on Twitter '@BBCJazzon3'.