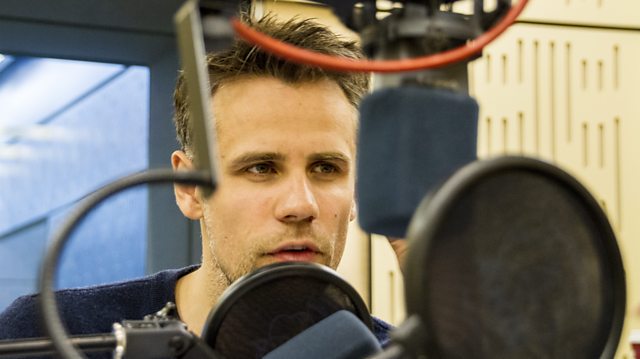 Sarah's guest this week is the radio and television presenter, Richard Bacon
Like Marmite, 5 Live presenter Richard Bacon polarizes opinion. Many listeners love him; some seem to loathe him – with a passion. I confess to being a fan. I started tuning in to his 5 Live show when he took over from the legendary Simon Mayo in 2010, and I was quickly hooked by his warmth, his wit, his honesty, his irreverence and his dogged, almost childlike determination to submit even the most hallowed pre-conceptions to thorough and penetrating scrutiny. I also liked the range of his enthusiasms – from politics, economics, art and science at one end of the spectrum to entertainment-world trivia at the other. But one area of endeavour I had always assumed to be beyond even his wide-ranging field of interests was classical music; my impression was that where music was concerned, he was basically a bit of a pophead. So I was intrigued when I heard Richard on his show last November telling The Choir presenter Gareth Malone, 'I want to learn about classical music'. After getting the thumbs-up from colleagues, I tweeted "@richardpbacon u say you're starting to explore classical music – come be a guest on @BBCRadio3's #essentialclassics and take it further ... " – to which quick as a flash – well, an hour-and-a-half later – he replied, "defo. Love to".
So that was step one. Step two, however, was problematic; most of our guests have a long association with – and often considerable knowledge of – classical music, and they make their own repertoire choices. As a self-confessed classical newbie, Richard wasn't really in a position to do this. The solution was to throw it open to Radio 3 and Richard's 5 Live listeners, and ask them to recommend pieces for him to cut his classical teeth on. Suggestions flooded in, from the rather predictable: Vivaldi's Four Seasons; to the relatively abstruse: Webern's String Trio – both remarkable works, but wrong for our purposes. Eventually we whittled several hundred pieces down to just ten, ranging from Tallis to Berio. I assembled them into a Spotify playlist, sent Richard the link and kept my fingers crossed that he'd actually do the listening in advance of the pre-record, which was scheduled for the 7th of February. In the event, I needn't have worried; nature intervened, in the form of his new daughter Ivy, who thoughtlessly scuppered our session by insisting on being born that very day!
We rescheduled for the following month with a slightly longer booking than I had previously planned, to allow time to play everything in full during the session – a luxury we don't usually have. This would allow Richard plenty of opportunity, if he wished, to talk to presenter Sarah Walker about the music as it was playing. The day came and Richard arrived at Broadcasting House just after 9am, fresh from baby duties and looking, not surprisingly, as though he might quite possibly have had less than a full night's sleep. When we started recording, it quickly became evident that he had indeed done all the listening. Interestingly, I had completely misjudged what would appeal to him; because he's a funky sorta guy I had imagined he would respond most strongly to two of the later-20th-century works – Berio's Sinfonia (3rd mvt) and an obscure but charming minimalist string-quartet movement called Harold in Islington, by Michael Thomas, leader of the Brodsky Quartet (recommended by listener David Mossley). In fact, Richard's favourites were Mozart's Gran Partita (Adagio), Beethoven's 7th Symphony (Scherzo and Trio), Chopin's E flat major Nocturne, op.55 no.2 and Ravel's G major Piano Concerto – pretty good judgement for a beginner!
What also struck me was the fact that he applied the same questioning intellect to the music he was encountering – in almost all cases for the first time – as he does in his own interviewing. So through the week you'll hear him question Sarah (as ever, a wonderfully supportive interlocutor) on a variety of topics, from the notion of humour in music and the emotional effect of Mozart's scoring for a predominantly wind band (as opposed to an ensemble with strings), to the disparate nature of the three movements of the Ravel concerto. He also talks frankly, amusingly and often self-deprecatingly about the joys and pitfalls of parenthood; his moving series of conversations with terminal-cancer sufferer Steve Evans; his historic encounter with Alan Partridge; and his approach to the art of the interview ("Wing it!").
Here's how he summarized the experience:
"What's been terrific, looking back over the whole week, is that the listeners have suggested a fabulous range of stuff. So some of the music has been quite challenging. It would have been easier to say, well here's a person who's not really into classical music, so let's just give him lots of famous of pieces and lots of gentle pieces and he'll quite enjoy it. But actually what they did was they covered a difficult range, I think, and there was stuff in there that I did like and that I didn't like, and there was stuff  in there that I only liked when I heard it for the second or third time … So as an introduction I don't think it could have been better."
It's a compelling listen – every day from 28th April to 2nd May between 10.30 and 11am on BBC Radio 3.