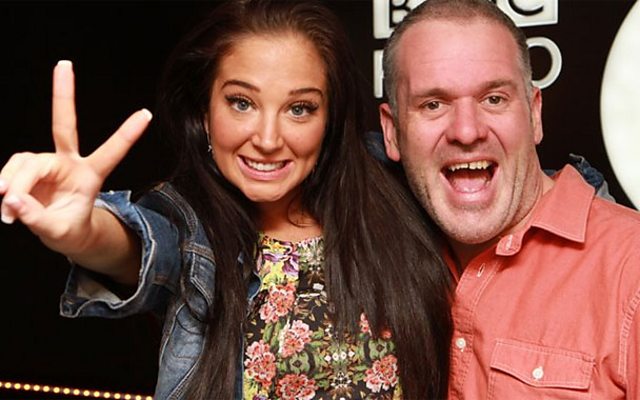 Tulisa on the Moyles show
At 9.45 this morning Chris Moyles played an old Underworld single and does what he normally does on a Friday. Laurel Waldron, a R1 listener in London, immediately tweeted "Born Slippy has just set me up for the weekend" attaching the hashtag #r1goldenhour to her tweet and perhaps, unwittingly, Laura had just joined thousands of other R1 listeners in participating publicly with Radio 1 visibly illustrated by the next phrase from the mouth of Chris "Let's try and keep this trending worldwide until 10 O' Clock".
The R1 Golden Hour; an hour of tracks picked by Chris and his team has been running as a popular feature for many years where listeners are urged to guess the year and get nostalgic. What's changed recently of course is that the sheer volume of responses now often means that Moyles' listeners are responsible for filling up the popularity charts of new terms on Twitter.
Meanwhile over on R1's Facebook hundreds of other listeners are similarly typing 2000, 1999, 2002 furiously into boxes on their phones as they head into work or college.
Moyles then reads out a few more tweets, Facebook messages on air, asks another question and the conversation online goes on. As I write #r1bromance is trending in the UK thanks to a Scott Mills feature (don't ask).
As my colleague Holly illustrated this afternoon, in her presentation none of this is new (Ed's note: Holly's blogged the presentation she gave at today's Online briefing). R1 has had Facebook / Twitter accounts for over 4 years but there's been a real shift in scale in recent years as the research validates.
This of course poses a number of challenges for a youth focused network.
As Radio 1 presenter and long time Moyles producer Aled Haydn Jones puts it, arguing that it's necessary for the Moyles show to be a catalyst for these interactions, "It's no longer about our audience contacting us, it's about The Chris Moyles Show, Radio 1 and the BBC being a part of their daily conversation. Using a variety of services, our listeners are able to interact with us throughout the day."
And the listeners of Radio 1 really do dominate these spaces:
10 out of the top 20 most followed radio presenters/producers on Twitter in the UK work for Radio 1 including Fearne (3.2m followers) and Chris Moyles (2.2m) two of the most followed Brits on Twitter in the UK.
Regularly over 1.5m users now regularly see photos, links and clips via the Radio 1/1xtra Facebook pages every week.
Radio 1 Twitter accounts regularly receive over 150K retweets and replies a week.
A small footnote is that SMS is still a dominant way for listeners interact with radio stations . Last month over 3.2 million SMS were received by the BBC's national networks. Radio 1 alone received 2.1m of them. An all time record.
And often for R1 it goes beyond the simple requests and shoutouts. Last week for those knuckling down to GCSEs they hosted a daily revision Q&As on Twitter with teachers providing English and Science facts and tips via, yes, another hashtag again - #r1revision.
I'll blog again in future weeks with more data about how the other networks are using social media and will return to Radio 1/1xtra.
I'm also happy to answer queries in the comments below.
I guessed 1999 by the way after I'd heard the excellent F.E.A.R by Ian Brown. As Aled tweeted "Lots getting it wrong on #R1GoldenHour - come on! It's easy. Even I know it this week!" Yep. It was 2001.
Jem Stone is executive producer, BBC A&Mi