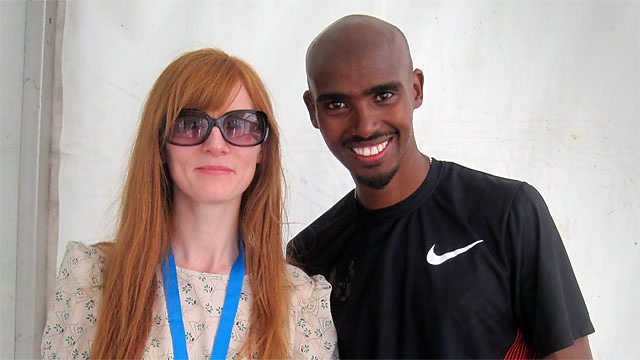 Mo Farah and Kellie
Like most of the nation, and indeed the world, I'll be watching the big-draw names like Usain Bolt and Mo Farah taking part in the London 2012 Games on TV this summer.
But unlike most others, I'll be looking closely to see signs of these top-level athletes quietly uttering their prayers on the starting blocks or looking up to the heavens as they cross the finish line.
This is because, for the past four months, myself and the programme's presenter BBC Sport's Dan Walker (Football Focus, Euro 2012, The Open and, of course, now the Olympics themselves) have travelled up and down the country talking to Olympians past and present in our quest to find out whether religious faith can give a world class athlete an edge. Can it even help them… win medals?
As you would imagine, getting access to the sports stars of various faiths proved the biggest challenge, although, surprisingly, this was not because they didn't want to talk about their innermost beliefs. Their training schedules and constant competitions in both the UK and abroad meant there was very little downtime. And imagine just how much that cranks up in the build up to an event like The Olympics…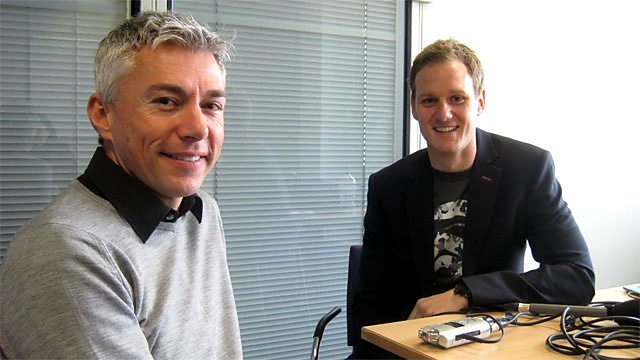 Jonathan Edwards and Dan
Once Dan and I did manage to cross paths with these much in-demand top sportsmen and women, they freely shared their different inspiring, personal stories of faith. I also managed to track down some rare audio from the 2008 Beijing Olympics, never heard on the BBC before, which captures some of the public's favourite stars trackside and offers amazing insights into their faith practices right in the midst of competition.
We hope you'll find it as fascinating as we have hearing the likes of Bolt, Farah, Christine Ohuruogu and many other big sports names as they speak openly about their belief in God or another higher power and share just what part this plays in the way they train and compete.
Dan himself is a practicing Christian, so I was keen that we included his own personal thoughts in the programme, especially as he doesn't work on a Sunday as it's seen as a holy day - something that also poses problems for some of the athletes featured in the programme.
I felt it was also important to talk to those without any faith for the programme – including various top sports scientists and psychologists – who have provided a very different, yet equally fascinating view of the relationship between religion and sport. Four-times gold-medal winning rower Sir Matthew Pinsent plus world champion triple jumper (and now former Christian) Jonathan Edwards also offer some unmissable, alternative thoughts.
Among the many I've been privileged to interview are practicing Muslim Mo Farah, Britain's only female amputee sprinter and Christian Stef Reid and members of Team GB's rowing squad (which has a rich mix of Christians from different denominations, a Muslim, a Jehovah's Witness, an atheist and more). I've stood at windy boating lakes, at finish lines and at Team GB training grounds plus scurried around Olympic Park and visited personal homes.
There have been giggles as well as tears not to mention disbelief (which includes the fact I still can't believe I asked for the main PA system to be turned down at the Bupa 10K run in London's Green Park, so I that could interview Mo Farah without the booming background sound of S Club 7's Reach (For The Stars). I did and it was).
Power-pop aside, there have been some genuine spine-tingling moments that we have sought to capture in our bid to relate the mystery of faith. It's hard to recount them here without spoiling the programme. But, I will say, among the many surprises is the almost unanimous response to the question of whether it is right to pray to win.
Having previously worked on the mammoth Radio 2 archive series, Sounds of the 20th Century, I've also eagerly sought out some archive gems. Relive historic sporting moments with fresh eyes (or rather ears) as you learn the personal faith stories behind them from the very athletes involved.
So, does having a faith help win medals? You'll have to tune in to find out…
Leap of Faith is on BBC Radio 2 on Tuesday 7th August at 9pm. You can hear a clip of athlete Christine Ohuruogu where she reveals the bible verse that helped her at the Beijing Olympics.
Kellie Redmond is an award-winning journalist and radio producer. She currently produces
Trevor Nelson's Soul Show on BBC Radio 2 as well as working on other documentaries and is producing live Olympic shows for the BBC during the London 2012 Games.
Olympic Christine Ohuruogu reveals the bible verse that helped her win gold in Beijing.