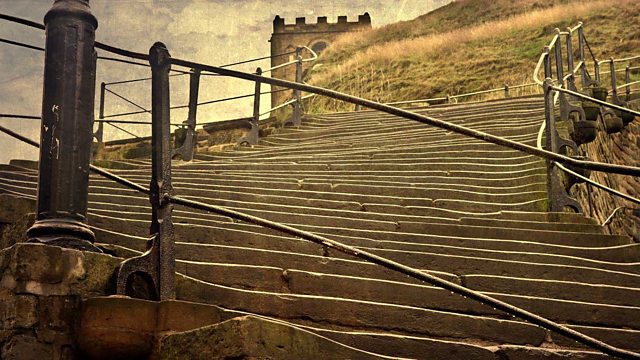 The steps to Whitby Abbey
From Sunday 14 October, BBC Radio 4 and Radio 4 Extra are embracing their spooky side and celebrating The Gothic Imagination.
Two new Classic Serial productions of Bram Stoker's Dracula and Mary Shelley's Frankenstein lead the season with an accompanying production of Howard Brenton's play Bloody Poetry focusing on the writers behind these iconic texts.
Late on dark Saturday nights on Radio 4 Extra, there'll be three original Gothic half hour dramas set in contemporary locations: an old people's home, an eerie piano teacher's house and in a department store during the riots.
On Radio 3, later this month, a new play inspired by Nosferatu completes this terrifying collection.
As you can imagine, creating the soundscape for these dramas has been an imaginative challenge for our studio managers who, as well as carefully crafting music and set action pieces, have stabbed and sucked oranges (for Dracula sound effects)and piled up slabs of meat and chicken breasts (for the sound of Frankenstein's monster being put together).
The Gothic Imagination: Dracula by Bram Stoker starts on Sunday 14th October at 3pm on BBC Radio 4.