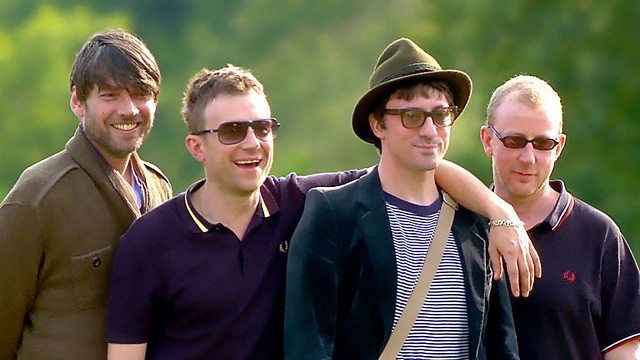 Blur
As Blur prepare to play Hyde Park at the end of the Olympics on August 12th, we've been delighted to offer them the opportunity to warm up at BBC Maida Vale. On Tuesday night they will play live for both
BBC Radio 2
and
BBC 6 Music
in front of two audiences who have been lucky enough to win tickets for this intimate gathering.
Damon, Graham, Alex and Dave will be talking to Steve Lamacq live on 6 Music and will then play 6 songs for 6 after 6pm. Two of them will be exclusive for online viewers at 7, as you can watch all of the 6 Music coverage live online, direct from Maida Vale. Amazingly it's the first live session Blur will perform for 6 Music, although Steve Lamacq's relationship with the band dates back to the early 1990s when they were still called Seymour.
Then at 8pm. Blur will be live in concert for BBC Radio 2, performing for a full hour. You can see them in action online at BBC Radio 2, on the official Blur website and over on the Guardian site as well. We're keen that our content lives in a variety of digital spaces so it serves as many licence fee payers as possible. The whole set will also be live on the red button on satellite and cable. We can't squeeze on to Freeview due to the wealth of amazing Olympics coverage but we will be repeating the gig on that platform in September.
Listeners and viewers will be able to take part in a live blog and we will try and get the band into it too. It's going a memorable night for all Blur fans, you can take part on the hashtag #BlurattheBeeb.