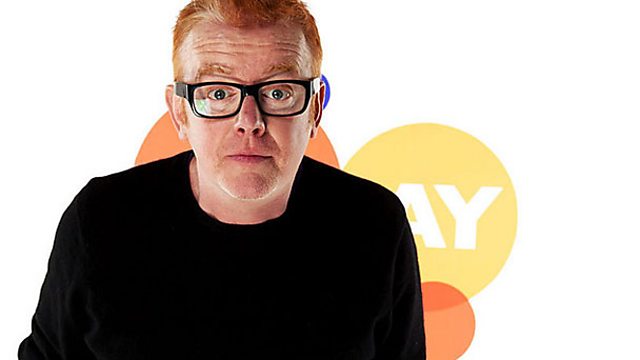 Chris Evans - 2Day
Tomorrow on Thursday 10 May Radio 2 shakes up the schedule and presents an entire day where nobody is where you expect them to be. Graham Norton will open the day at 7am, and you can read about everything that's in store on the Radio 2 website.
All of the presenters had a great time filming the trailer which is now playing across BBC television.
2DAY returns on Thursday 10 May 2012. Things will sound a bit different to normal as all our presenters take to the air across the day.
This year we are planning to add an extra dimension, giving you a look at what is going on throughout the day. We will be live video streaming from the home of Radio 2, Western House. You will be able to see presenters like Graham Norton, Terry Wogan and Claudia Winkleman as they present their own hour.
There's a chance to hear and see a wide range of great artists and bands performing live - both in the studios, and in a special performance area created for the day.
While you can watch acts like Paloma Faith, Damon Albarn and Will Young live; you will also be able to catch them all on demand later, via the Radio 2 website. We will also be capturing some special moments like Sound of 2012 winner Michael Kiwanuka live at the Watford Colosseum, performing two special collaborations with the BBC Concert Orchestra.
The day will end with a live hour of music at 6pm presented by Chris Evans from the legendary 100 Club on London's Oxford Street.
Live on the red button on digital television - and online - you will be able to see Keane, Jamie Cullum, Bellowhead, the cast of Jersey Boys and Chris Rea. The day will finish with a spectacular duet performed by The Voice coaches Tom Jones and Jessie J. Look out for exclusive 100 Club live content on the red button content - and online - after 7pm.
There will be a huge range of audio and video clips available, so everyone can catch up afterwards, and you will also be able follow the day's events on Facebook and Twitter.
2Day will provide a unique insight into Radio 2, and the wide range of presenters and genres that make up the schedule. We hope that the Radio 2 audience who don't normally look at what we do online, will take this opportunity to log in, watch and take part.
Brett Spencer is Head of Digital BBC Radio 2, 6 Music, Asian Network