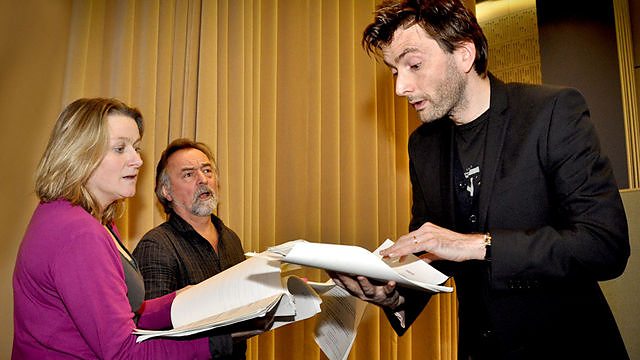 Rosie Cavaliero, Ron Cook and David Tennant
There are a few highlights that you may have missed in the current TV and radio Shakespeare fest that are still available for a limited time online.
Last week the British Museum's Neil MacGregor, presenter of Radio 4's Shakespeare's Restless World, along with curator Barrie Cook took part in a live blog on the Radio 4 website, answering listeners questions for a couple hours. Barrie and Neil's answers are available on the Radio 4 blog.
Radio 4's The Reunion told the story behind the rebuilding of the Globe theatre in London - you can listen online.
While The Telegraph's radio critic Gillian Reynolds may have been "grumbling restlessly" at what appeared to be a surfeit of Shakespeare:
"Why has Shakespeare been assimilated into some ghastly mass national cultural branding?"
She went on to admit that MacGregor's programme "Shakespeare's Restless World turned out to be superb".
Back to Radio 3's trio of Shakespeare plays of which Reynolds wrote:
"The first was Twelfth Night. David Tennant, actor of the year in the new BBC Audio Drama Awards, played Malvolio, Rosie Cavaliero (actress of the year) played Maria. I wish I could say they were rubbish, it being more fun to damn than praise. I can't. They were astonishingly good..."
You can hear Twelfth Night and Romeo and Juliet online for the next 13 days (or download Romeo and Juliet for the next seven). On Sunday it's the turn of The Tempest with David Warner as Prospero, Carl Prekopp as Ariel, Rose Leslie as Miranda and Don Warrington as Gonzalo.
Paul Murphy is the editor of the Radio blog.