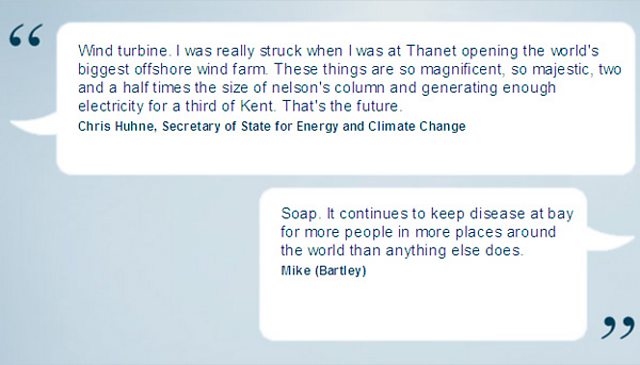 Without doubt, my highlight of the week will be going to the British Museum on Thursday as we reveal the last object in our series A History of the World in 100 Objects. The Radio 4 series has been a centrepiece of our radio programming over the last year and it is destined to be remembered as one of BBC Radio's landmark pieces of broadcasting.
Initially, the idea of a world history brought alive through objects described on radio appeared too demanding for some. However, the use of objects as the starting point for important stories that draw in broader themes while remaining, by their very nature, personal, has been uniquely powerful. As someone who completed history A-Level with an encyclopaedic knowledge of the causes of World War Two but with little or no sense of global or early history, the series has been a revelation.
Thanks to the quality of production including masterful presentation by Neil MacGregor, the series, which has never shied away from more demanding detail and themes, has caught the public's imagination. We have seen an amazing 10 million podcasts downloaded and the involvement of over 500 museums across the country. Online, thousands of people have been submitting their own objects from a miniature 15th century prayer book to a 19th century Ale Jug.
This week we have been revealing some of the objects that are being considered for our last selection. We have heard about objects on the short list such as Didier Drogba's Chelsea shirt, the latest polar clothing and a mobile phone. Also numerous people have been making suggestions about what the object should be. Predictably, the last time I asked, the iPhone seemed to be coming out top. Importantly, and unlike reality TV, although we are getting numerous suggestions from the public, the final item will the choice of Neil MacGregor and the programme team, thus preserving the value of a strong curatorial hand across every episode the series.
Also, while some may question the value of some of the final possibilities, each offers great story-telling potential. Take Drogba's shirt; it is worth pausing and thinking just how many themes it embodies: the globalisation of sport, Russian oligarchs, the cult of celebrity to name but a few. I have no idea if it will be picked. I have asked not to know as I want to enjoy the drama of the announcement on Thursday morning at around 0745 on the Today programme. I hope that you will be listening not only to the news about number 100 but to all of these memorable programmes.
Tim Davie is Director of Audio & Music at the BBC