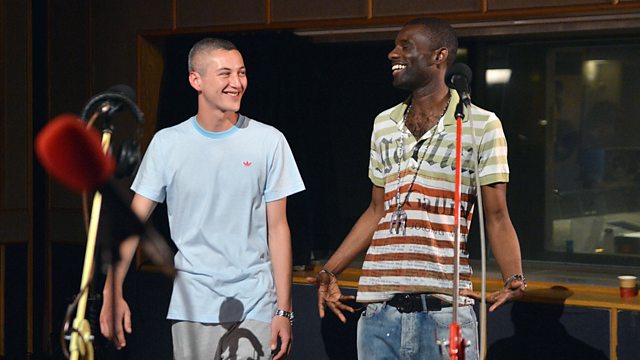 Devlin and Wretch 32
If you missed 1Xtra's 10th birthday on Thursday or the tribute to the great Qawwali musician and singer Nusrat Fateh Ali Khan on the Asian Network you can catch up over the weekend and for the next six days online. 1Xtra's sessions and picture galleries include Professor Green, Jessie J and Wretch 32 plus a free exclusive #1Xtrais10 mp3 download.
My colleague Jem Stone has pulled together a blog of the social media buzz around 1Xtra's birthday including pics and tweets by the day's guests.
On Tuesday comedian Stewart Lee revealed himself as an electronic music fan fronting Radio 4's A Sound British Adventure, which followed the development of electronic music pioneers after World War 2.
Most people don't associate Radio 4 with music but there's a complete archive of Radio 4's excellent series Soul Music which maps the stories behind many great songs and music in quite moving ways. There are 38 episodes online covering everything from Non, Je Ne Regrette Rien to Gerry Rafferty's Baker Street via The Hallelujah Chorus.
Tuesday night's Late Night Prom 44, which was live on Radio 3 and online (as are all the Proms), featured key post-War compositions including Ligeti's Poème symphonique, a piece written for 100 metronomes and John Cage's infamous 4'33" and also a special remix commission, Small, Smaller, Smallest, by Matthew Herbert with the recently reformed Radiophonic workshop. You can hear Prom 44 online until Tuesday.
You can join the London Mela live on Asian Network on Sunday and the website will be updating with clips and photos throughout the day.
Paul Murphy is the editor of the Radio blog.
A few related links: