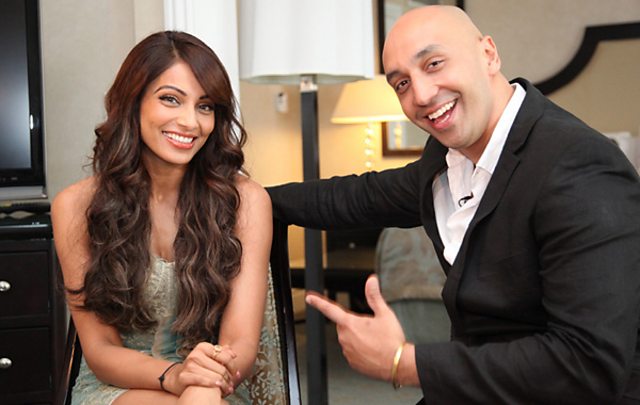 Bollywood Stars: BBC Asian Network's Tommy Sandhu with Bipasha Basu at IIFA
The BBC Trust is currently reviewing BBC Radio 5 Live and 5 Live Sports Extra. The period for public submissions closed recently and the Trust promises to publish its finding in "due course".
In the meantime, several trade papers are reporting on what the trade body for commercial radio, the Radiocentre, called 5 Live's "identity crisis" in their submission.
'Commercial radio trade body Radiocentre has accused BBC Radio 5 Live of "suffering from an identity crisis and confusion over its purpose" and called for it to stop branding itself as an entertainment station.'
Radio consultant and ex-5 Live executive Bill Rogers wrote on his blog:
'The Centre's current target is the Richard Bacon show, for doing too much "celebrity and entertainment news". I suspect the authors of this report are only recent listeners to the station, and may be quite young. It's always been there. Hark back to The Magazine, with Diana Madill. Remember Eddie Mair's jousts with Cliff Richard...'
You can download the Radiocentre's submission via Bill Roger's blog post.
*
You have until Sunday to catch the BBC Asian Network's coverage of the International Indian Film Academy Awards in Toronto on the BBC's Red Button digital TV services. You can also catch photos and videos on the Asian Network website now and extended video footage from this Monday. Maestro Cam and Soloist Cam also return to the Red Button for this season's Proms. More details of both items and other Red Button services here.
*
On the About the BBC blog the head of Audiences has written a post Measuring quality and reach at the BBC announcing the quarterly publication of audience figures related to, wait for it, quality and reach across all platforms including radio. The first report, covering January to March 2011, makes for happy reading for UK radio executives:
'Overall radio listening remains strong, not just for the BBC but for the wider radio industry. The most recent data release from RAJAR (...) relating to Q1 2011 shows radio to be in better health than ever before with 91.6 per cent of the adult population listening to a UK radio station every week (47m). 68 per cent of UK adults 15+ (35 million) consume at least 15 minutes of BBC Radio in an average week (the highest figure on record) and listeners spend over 16 and a half hours on average per week listening to BBC Radio.'
Read the rest of Measuring quality and reach at the BBC and download the report on the About the BBC blog.
Paul Murphy is the Editor of the Radio blog