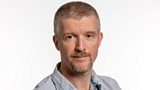 Chris Kimber
Executive Product Manager, Radio & Music
Blog posts in total 3
Posts
Editor's note: On the BBC Internet blog there's news of a new test version of the BBC Radio homepage for you to try and out and submit your feedback - PM. A screenshot of the Radio 1 Labs release Today marks an important (if relatively modest) step for BBC radio on digital platforms...

A few weeks ago we released our first version of the BBC Music Showcase and this week we have made some important tweaks to the site following user testing. We've had some comments following posts from my colleagues Andy Puleston and Matt Coulson, so I thought I'd write to tell you a bit more. ...

You may have heard that we offered an extra high quality (320kbs AAC) online audio stream for the last week of the BBC Proms this year (read about the experiment on the BBC Internet blog). The feedback we received was almost universally good. Listeners really appreciated the richer sound quality...