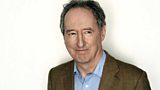 Roger Bolton
Blog posts in total 3
Posts
Spare a thought for the BBC's newish Director of the World Service Peter Horrocks. No sooner has he sat down in his seat in Bush House than his paymaster, the Foreign Office, announces an unprecedented cut of 20 per cent in its funding. No sooner has Mr Horrocks announced the inevitable closur...

Editor's note: Tim Davie was interviewed on today's Feedback, Radio 4's weekly accountability programme - SB. "The BBC should be ashamed of themselves for running this ad. They are telling their listeners to buy something they know isn't ready for us yet." That was William Rogers, Chief Execut...

In this week's edition of the BBC's in-house newspaper 'Ariel', the main feature is about the heavy workload the BBC's chief operating officer, Caroline Thomson, now has as a result of the recent cull of executive board members. One of her three main responsibilities, it said, was preparing for ...