I was having a conversation with someone in the office the other day about Gary Oldman's best films. They offered up The Dark Knight, Harry Potter and the Prisoner of Azkaban, The Fifth Element. I mentioned Léon. "No, too old, don't know it", was the response. WHUUUUUTTTT?
So for those of you who don't know Léon: The Professional, I am here to educate you and for those of you who do, it's a great excuse to either dig out your old DVD or go and buy it on the anniversary special edition Blu-Ray because Léon is TWENTY YEARS OLD.
Jean Reno is Léon, a French assassin in New York whose cold, mercenary life is turned upside down when he takes in Mathilda, a young girl whose family is brutally murdered. By GARY OLDMAN ('s character). He teaches her how to shoot, lie low and in a warped sort of way, becomes a better father figure than her real dad. In return, Mathilda teaches him how to have fun, enjoy life and most cornily of all, how to love. I didn't cry at all. That's a lie, I cried loads. And did I mention that Mathilda is played by a very young Natalie Portman? And she plays her really bloody well.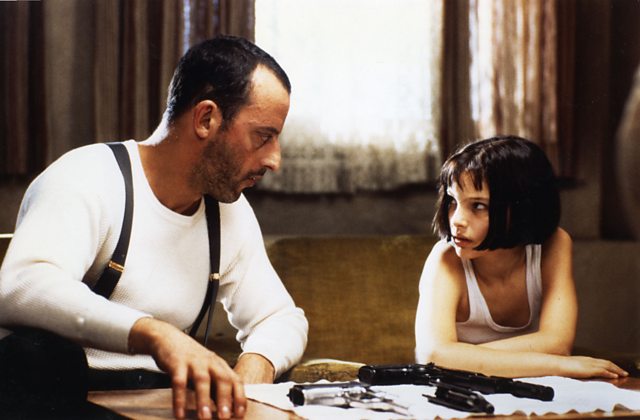 Leon.jpg
I know, the old hit man with a heart story, it's as old as time itself but it's Jean Reno who brings a childlike innocence to Léon which makes him stand apart from other hired gun men. As the brilliantly titled Jeff Goldblum's Laugh blog from the Prince Charles Cinema points out, there's a fantastic scene where Léon goes to the cinema and is enchanted by Gene Kelly's performance in Singin' in the Rain.
Léon: The Professional trailer
But back to Gazza. He plays the bent cop who kills Mathilda's family, realises that she's the only eye-witness and sets out to kill her too. He's fantastically mad, megalomaniacal and ruthless. It's a really funny film, it's got some excellent shoot-out scenes and your heart will break a little bit at Mathilda's forced independence.
Watch it and let me know what you think @BBCR1Rhianna. I've also done my next 4 Minutes of Film video blog, where I review the latest releases and chat to my mate Gary about Robocop, check it out.