Meet the Winners: Stranraer African Drumming Group
Stranraer African Drumming Group, based in Scotland, is an inclusive and informal group of drummers who put their Community Music grant towards workshops that would provide a range of experiences to suit all members.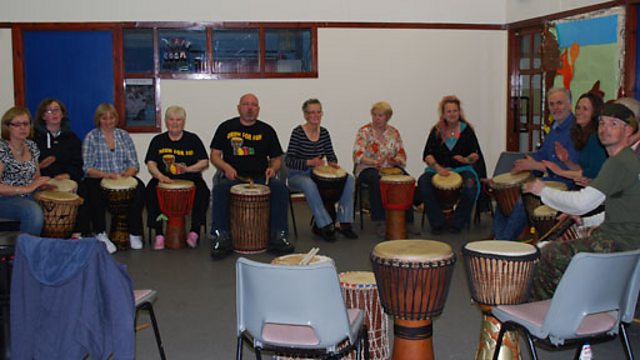 1. Who are the Stranraer African Drumming Group?


Drum for Fun are an inclusive community group led by volunteers. We have been running for over 10 years and our aim is to enjoy playing and learning African rhythms in an inclusive and encouraging environment; we believe everyone can have fun drumming.
2. How has the BBC Performing Art Fund Community Music grant help the group?

The grant means that we have had some expert professional input from 3 specialist tutors.  We have been introduced to new rhythm experiences and our skills and confidence have grown visibly as a result. We feel strongly about inclusion and the ideas we have been given mean that participation in drumming and rhythm has become even more accessible for all of our members. 
3. Tell us about the best day Stranraer African Drumming Group has had to date?

We have had many great days over the 10 plus years the group have been running. Perhaps our best this year was our first performance following the workshops at the Wheely Good bike show in Newton Stewart. This was the first time our costumed dancers performed and they had a great reception from the public. We also performed new rhythms and some newer members of the group took the lead on some of them. The group really gelled well for this performance and it set us up for the rest of the summer performances culminating with a great day at Stranraer Park fest.
4. What was the best reaction from the group when they found out about winning the
BBC PAF grant?

A lot of excitement and congratulations all round, couldn't wait to try out some of the new instruments and see what the tutors would do with us.
5. Give us 3 words that describe a performance by the Stranraer African Drumming Group

Loud, energetic, fun!


Visit Stranraer African Drumming Group website for more information about the group and how you could join in the drumming fun.

-

Meet the Winners is a feature introducing you to some of the groups and individuals who have recently received a grant from the BBC Performing Arts Fund. We get to hear about so many fantastic projects and people who are keeping the performing arts alive in the UK, that we thought you should know about them too.