Big excitement from the Little Shop of Horrors
Since winning a Young People's Musical Theatre grant in 2010, Zion Young Performers have taken on the challenge of bringing the Little Shop of Horrors to Hulme. The founder, Hannah Cotterill, tells us how their project has been developing.
"Zion Young Performers (ZYP) is a youth performance company founded at Zion Arts Centre in Hulme, Manchester. Emphasising its status as a 'performance' company rather than that of a standard 'theatre' company, ZYP seeks to educate young people between the ages of 12 and 18 in all aspects of performance as opposed to pledging allegiance solely to acting. Music and dance feature in equal measure and technical stage management opportunities are available for those with an interest in this area.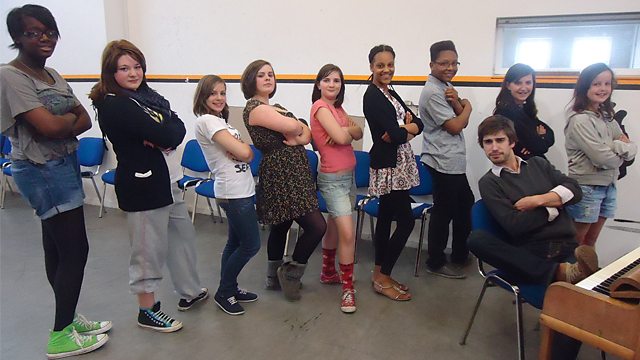 After an initial showcase event in December 2010, ZYP were awarded a grant of £4,500 in 2011 from the BBC Performing Arts Fund allowing us to continue our work. The decision was made to use the money to stage a full-scale musical theatre production, incorporating all the skills encompassed within the group, to be put on in November 2011.

We are now in the final stages of the rehearsal process for our chosen musical Little Shop of Horrors and all is going well. Act One is near completion and we are ready to move onto rehearsing our second (much shorter) act in time to put the whole show together for our performance dates! The cast are working away as enthusiastically as ever and growing even more confident by the day. When asked whether he was looking forward to the performance, principal actor Nathan replied "Yes, very much so! It has been a fantastic opportunity already and that's just the rehearsals! I cannot wait to get onto that stage and perform alongside a cast of wonderfully talented people".

The cast have already had the opportunity to work with guest theatre director Oliver Bray, as well as the rest of our in-house artistic team. Attentions are now turning to the heavy production elements required for the show (namely the plant) which is most likely where a significant proportion of the funding money will be spent.

The inclusion of a non-human character onstage is certainly something which requires serious consideration from the beginning of a project. The cast have had to get used to acting alone in the absence of the plant so far and will once again need to adapt their acting when it finally arrives. Finding a production team capable of bringing together a show of this magnitude has also been a problem and we have had to draw expertise from various sources to inform the different decisions that we have made and are still making along the way. The experience so far has definitely been a challenging one - some roles have had to be recast due to prolonged absence of some young actors. However, it is simultaneously as exciting as ever and we look forward to the final performance dates!"