Meet the Winners: Lung Ha's Theatre Company
Lung Ha's is an Edinburgh based theatre company that provide opportunities for people with learning disabilities to become actively involved in the performing arts. They are currently rehearsing for a collaboration with National Museums Scotland and will be performing in the Ediburgh Festival Fringe in another co-production with Stellar Quines. Find out more about this busy theatre group...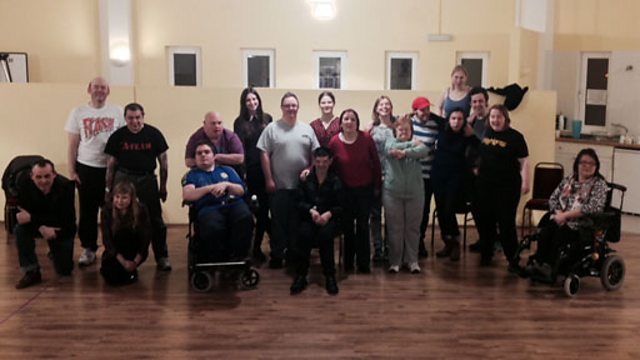 1. Who are Lung Ha's Theatre Company?
Started in 1984, Lung Ha's Theatre Company consists of a maximum of 25 performers with learning disabilities from across Edinburgh and the Lothians, who attend a weekly workshop to develop theatre skills and work to create two professional theatre productions a year. Previous productions have toured extensively across Scotland, and when possible, internationally. Lung Ha's Theatre Company has a growing reputation for performance quality and artistic achievement. Our vision is to be a leading theatre company for people with learning disabilities, in Scotland and internationally.


2.Tell us about the project the BBC PAF Community Theatre grant will fund?
 The BBC Performing Arts Fund is helping to fund The Hold, an exciting collaboration with National Museums Scotland. In this production the Company is developing and will perform a piece of site-specific promenade theatre inside the National Museum of Scotland, Edinburgh. The project will involve members of Lung Ha's Theatre Company as well as director Maria Oller, composer Kenneth Dempster, writer Adrian Osmond and designer Karen Tennent. The project has been partly inspired by objects on display in the museum and will take place within the museum's normal opening hours; enabling members of the public who may not usually attend the theatre, to view the production as they look around the museum's exhibitions. 

The Hold is the poignant, lyrical and profoundly moving story of one man looking back over his life - but with a future still yet to be written. Peter, a man for whom holding onto every moment of his life has become a physical obsession, realises that letting go of the past is the only way he can look forward, and perhaps even find peace.


4. Give us 3 words that describe a performance by Lung Ha's.
Creative. Inclusive. Passionate


5. What was the best reaction from the group when they found out about winning the PAF grant?
"Thank you BBC PAF, the money you have provided will help Lung Ha's Theatre Company strive forward to create more theatre and help people to think differently about performers with a disability."
Stephan Tait – Company Member

"With the money provided by the BBC Performing Arts Fund, they have given us huge opportunities to look forward to as a theatre group, but also as friends. It is great to know we are supported by such a huge and successful organisation. Thanks BBC PAF."
Emma McCaffrey – Company Member


6. How will the members benefit from the project?
Cast members will directly benefit from having an artistic, social and therapeutic outlet. With this project comes the opportunity to work alongside people who have a range of expertise including: choreographers, musicians, photographers, designers and costume makers; allowing the Company to develop their own repertoire of creative skills. The project also provides a platform to develop life skills such as team work, independence and self-confidence. Audience members can also benefit from the cultural aspects of theatre and the social aspects of interacting with people with learning disabilities, especially those who may not have previously had an awareness of learning disabilities.
Follow Lung Ha's Theatre Company on Twitter & Facebook.
Visit Lung Ha's Theatre Company website here.

---
Meet the Winners is a feature introducing you to some of the groups and individuals who have recently received a grant from the BBC Performing Arts Fund. We get to hear about so many fantastic projects and people who are keeping the performing arts alive in the UK, that we thought you should know about them too.