TV Comedy Flash Choir: Take two!
To mark the 75th anniversary of the BBC's first regular broadcast from Alexandra Palace, we at the BBC Performing Arts Fund joined BBC History on a trip to the National Media Museum in Bradford to take part in their celebrations as part of the October half-term. We couldn't think of a better opportunity to run our TV Comedy Flash Choir again and 25 members of the public who came along to sing seemed to agree!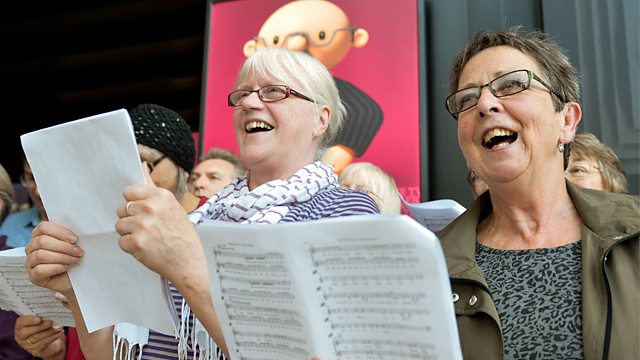 Photographer: Simon Dewhurst
BBC Radio Leeds, who were broadcasting from the National Media Museum that morning, followed the sound of familiar TV theme tunes to see what we were up to. We warmed up our vocal chords by testing the presenter via a Guess the Intro game where we hummed the opening bars to some of the tunes featured in our choral medley. It seems that the opening bars to One Foot in the Grave are tricky to identify when hummed!

Back in the hands of the professionals (Musical Director Mark Warman and accompanist Mark Aspinall), we were once again very impressed by how quickly the choral arrangement was picked up by the group. A short hour and a half later after seeing the music for the first time, the group were ready to perform to the unsuspecting public in the Museum foyer.

We would be hard pushed to sum up the day in a way that gave justice to the fun that was had by all. Luckily the whole process was filmed by Rachel Sawyer and Alex Ruddis from the Bradford Media School, University of Bradford so you can see for yourselves.

Thanks again to everyone that came along on the day and of course to Mark and Mark. And if you have watched the video above then we apologise as you may have these tunes stuck in your head for the rest of the day!