Meet the Winners: The Pink Singers
The Pink Singers are celebrating their 30th Birthday this year and have used their Community Music grant towards a commission and a day of festivity. Written and composed by Richard Thomas, 'The Great Choir of London' receives its world premiere during the evening performance on the 13th July. The jam-packed day will also consist of workshops before an evening concert involving hundreds of performers from guest choirs across the UK.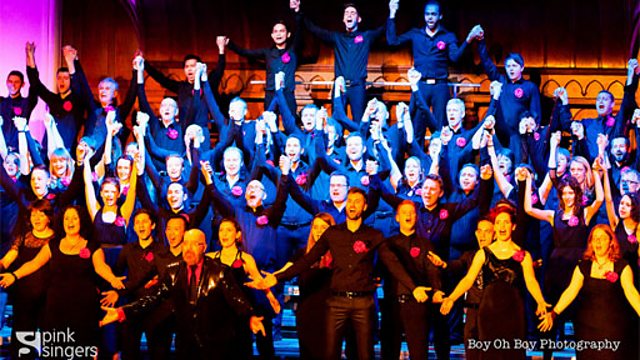 1. Who are the Pink Singers?

We are Europe's longest-running LGBT (lesbian, gay, bisexual and transgender) choir. We were founded in 1983, making us 30 this year. We perform a very varied repertoire: from Bach to Madonna via Chinese folk music – with some choreography thrown in for good measure. We also promote a message of equality and diversity, through performances in the UK and abroad. We love to sing and spend time together. We've been asking choir members to describe the choir recently for our archives and this answer perhaps sums it up best: it's just a big pink hug with some pretty serious singing going on as well.
2. How will the BBC Performing Art Fund Community Music grant help the group?

It allowed us to commission a new composition for our anniversary from Richard Thomas (Jerry Springer the Opera, Anna Nicole, Shoes). He has written us a piece all about being in a choir, which many groups should be able to empathise with. It's light-hearted and funny, and we're very much looking forward to premiering it at the choral festival that we are organising at The Troxy in London on 13 July 2013.
3. Tell us about the best day the Pink Singers has had to date?

Our 30th anniversary concert in January was a special day for us. We performed 30 songs from our three decades at Cadogan Hall in Chelsea. The show stretched us technically and musically, but the audience reaction made all the hard work worth it. We had a standing ovation and lots of emotion – even a member of our hired string quartet was crying!
4. What was the best reaction from the group when they found out about winning the BBC PAF grant?

There was a collective gasp. It was the first time we had won anything that anyone could remember.  Someone burst into a (slightly altered) rendition of Jessie J's Price Tag!
5. Give us 3 words that describe a performance by the Pink Singers

Eclectic, fun, family

Visit the Pink Singers website to find out more about their process of getting the new commission in place and rehearsals for the festival this weekend.
@pinksingers
-

Meet the Winners is a feature introducing you to some of the groups and individuals who have recently received a grant from the BBC Performing Arts Fund. We get to hear about so many fantastic projects and people who are keeping the performing arts alive in the UK, that we thought you should know about them too.