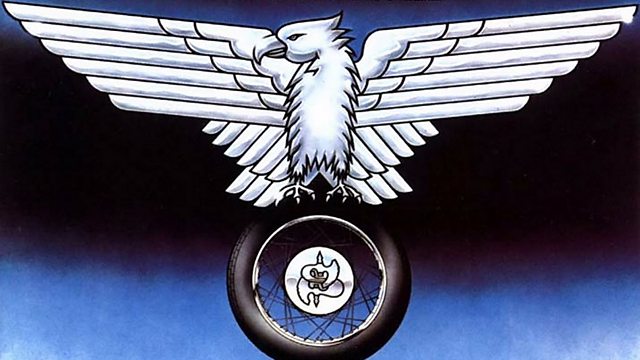 Saxon's Wheels of Steel logo
Winter 1982: I saw my first gig. It was
Saxon
at the Brighton Centre and it was a life-changing event. Saxon were my favourite band at the time, which meant I had a couple of their LPs and a patch on the back of my body-warmer (and for those who care such details, it was the
Wheels Of Steel
cover with the eagle astride a motorbike wheel: a thrilling artistic conceit to a 12 year-old lad). I love those albums, I loved the songs about freedom and motorbikes and hordes of denim and leather-clad hedonists... And then, to be among that crowd (from the safety of the balcony) was mind-blowing. The lights, the screaming guitars and the sheer volume (which was like being repeatedly kicked in the chest by a small horse) was frightening and thrilling. Life wouldn't be the same again.
One of the contributors to the Paranoid episode pointed out, quite astutely, that this was music you're supposed to feel guilty or embarrassed about liking. Somehow you're supposed to grow out of it in a way that's not expected of, say, country or jazz or even rap, which can be every bit as clichéd or ridiculous. But we know metal's ridiculous: it revels in this fact and only a Manowar fan would think otherwise. But there is no music that has the visceral rush of Heavy Metal: the feeling that you've been picked up bodily by a huge, precision-tooled industrial machine and transported elsewhere at immense speed. The musicianship is astounding. And, yes, lyrically it can be trite or hoary. But it can also be smart, witty, polemical, probing or even existential. And then there are also songs about naked Amazonians riding dragons into war against robot assassins from Mars. It has it all, really.
And yes, I did move on in my late teens and discovered many other thrilling musical worlds, from bluegrass to trance. But as this series constantly proves, music can act as a time machine to transport you back to another time and place, all in under three minutes. And that's the power of pop music, even the really noisy stuff. 
Do you have a favourite desert island Heavy Metal track? Which riff can unfailingly get you headbanging? Why not send us your selection in an email to thepeoplessongs@bbc.co.uk, or in a comment on this blog and we'll add it to our definitive Spotify playlist!