*In the run up to VolFest, a one day event from BBC Outreach & Corporate Responsibility hoping to connect BBC staff directly with diverse audiences, Sarah talks about what outreach means to her and how it can help enrich the BBC's on-air programming for all audiences.
This week we're sharing examples among colleagues about the outreach work that is quietly happening around the country, and about new opportunities for staff to be involved. VolFest, a one day event to encourage programme makers to meet new and diverse audiences through face-to-face activities, will bring staff together with 16-24 year olds to come up with ideas for online content.
We'll also showcase previous success in the hope of inspiring some innovative new collaborations, which will ultimately lead to creative and exciting content.
Outreach work to me is a lot about reaching out to audiences who are not inclined to reach in to the BBC.
Forging connections with people helps us enrich our output, to make it compelling and relevant to the UK's population in its full diversity.
Outreach is a game of two halves and should end in a draw. The draw being a strong pull on both sides to something positive with what they learned about each other.
Sometimes outreach work is quite intimate, with outreach project managers drawing together small teams of staff volunteers to work with communities, and to gain enough trust to have fruitful conversations about how they'd expect their worlds to be portrayed.
Sometimes, outreach work goes wider. One of my favourites this year had a distinctly football flavour. It was World Cup Day, held here in Salford, in May - a series of creative sessions with 40 young people to find out more about their tastes and habits in the multi-media world.
Young women playing football at World Cup day.
Ideas workshops helped BBC colleagues gain up-to-date insights into media consumption among young people aged 16-20. This is now helping the BBC choose the best places and methods to trail programmes which appeal to this generation.
Our young guests saw behind the scenes at MediaCityUK, with presenters Dan Walker and Katherine Downes, and worked in a masterclass with commentators Conor McNamara and Guy Mowbray.
The teenagers went home with clearer understandings of what it takes to cover the World Cup on the other side of the globe in a multi-media age. They were thrilled they could now follow the action with some new insights. And for some young people it made a dream of working for the BBC become a goal.
I definitely call that a draw.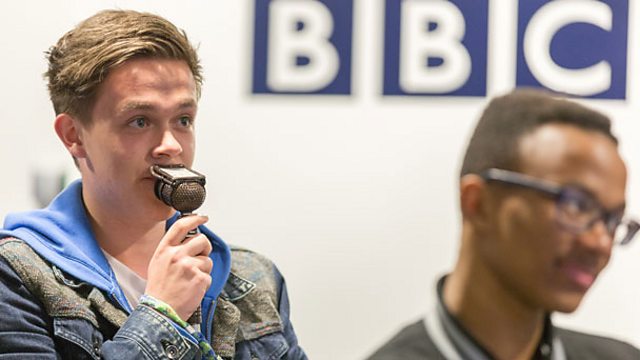 Young men taking part in a talk for World Cup day.