Saturday 21st September was the Big Dig Edible Gardens Open Day, a nationwide event to highlight the great work of community gardens and their volunteers. I co-ordinate the Big Dig project in Greater Manchester for the Kindling Trust, and was thrilled to bits when BBC volunteers Duncan Bloor and Caroline Ward agreed to make a film of the day.
The aim was to show off all the community gardening happening in Greater Manchester, to act a snapshot in time to record where we are in terms of community food production.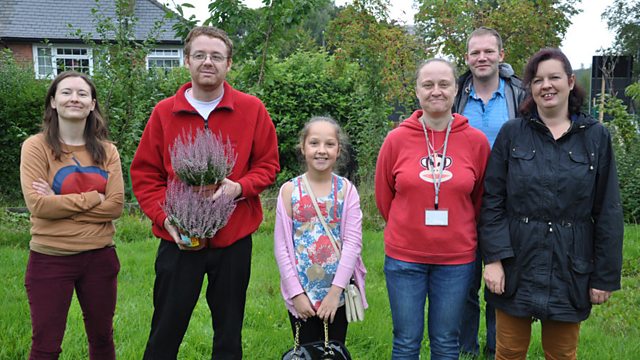 BBC volunteers Duncan and Caroline with the Chatterbox Project
We visited three gardens, starting with The Greenfingers project, part of Chatterbox in Charlestown, Salford, where five community gardeners were busy tidying up their raised, beds, planting spring bulbs, and generally getting ready for winter. After a bowl of heartening beef stew and a lovely chat with everyone involved, we headed off, inspired by the difference a handful of dedicated people can make to their neighbourhood.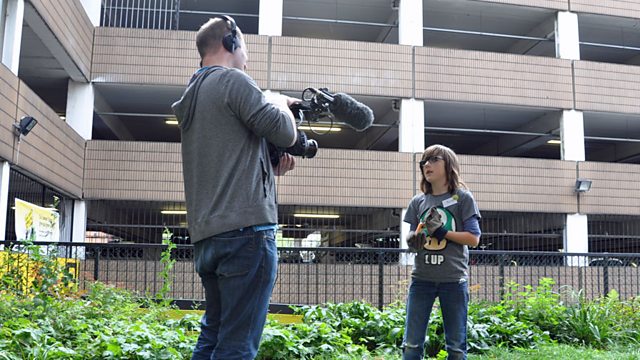 BBC volunteer Duncan interviewing a gardener at the Northern Quarter
Next stop was the Northern Quarter, specifically the gardens maintained by a hardy bunch of local residents known as Northern Quarter Greening (NQG). They maintain the beds around a multi-storey car park and seating area on Thomas Street. We learnt how they had transformed an unloved area into the vibrant community hub it now is. Donning marigolds the NQG community gardeners multitasked as they tidied up the beds, answering questions from curious passers-by and encouraging them to join in the fun.
Lastly, we dropped in on Moss Side Community Allotment, a new project based on a statutory allotment site on Caythorpe Road, which is lovingly tended by a large and passionate group of locals, who have built a complex of raised beds, chicken run and kids garden, that's used as an outdoor classroom for a group of home-teaching families. Over 80 people dropped in during the open day to have a nosey around the garden and sample the many delights produced using fruit and vegetables grown on site.
Nothing quite captures the dedication and excitement of Greater Manchester's community gardeners as a video, so we're hugely grateful to Duncan and Caroline for giving up their time to make the film, and to everyone who appeared on film.
*BBC Outreach works with communities and provides volunteering opportunities for BBC employees.This project brought BBC staff volunteers face-to-face with audiences to help tell their story.
Short film about the work of the Big Dig project in Manchester