I'm a Researcher for BBC Bitesize. The rest of the Bitesize team and I decided to get our hands dirty and volunteer for FarmStart, set-up by the Kindling Trust at Abbey Leys organic farm.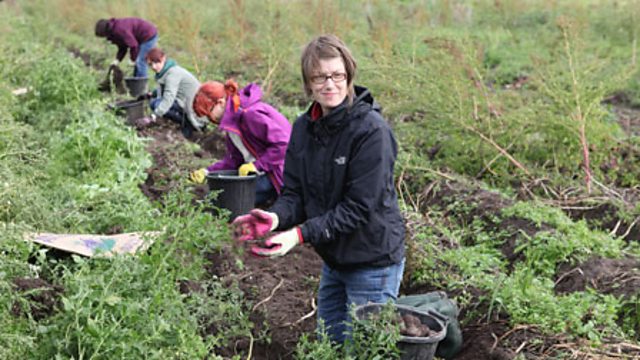 BBC volunteers harvesting potatoes.
As much of our normal working day is spent at a computer, creating Study Guides for KS3 and GCSE students, signing-up to FarmStart's Land Army gave us a chance to work together doing something very different, away from the office, whilst learning more about growing vegetables and organic farming.
"The day was a fantastic opportunity to get to know team members outside of their project roles and work in the fresh air." Lyndsey Callion, Producer, BBC Bitesize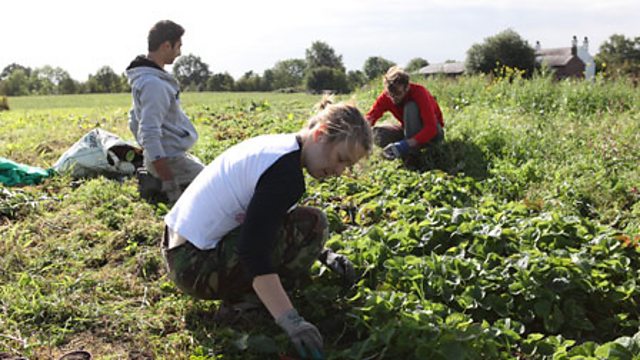 BBC volunteers repotting strawberries.
In the morning we were split into two teams with one team tasked with harvesting some weird and wonderful potatoes including salad blues and the mutant-like pink fir apples. The second team got to work building compost bins, weeding and clearing vegetable waste and planting strawberries. As Abbey Leys farmer, Tim lifted the potatoes using the tractor; it was amazing to see just how many were buried in the soil beneath us.
"I really enjoyed pulling up the huge courgette plants as each one I removed made a big difference to the landscape, so I could easily see the progress I was making." Tracy Navin, Assistant Producer, BBC Bitesize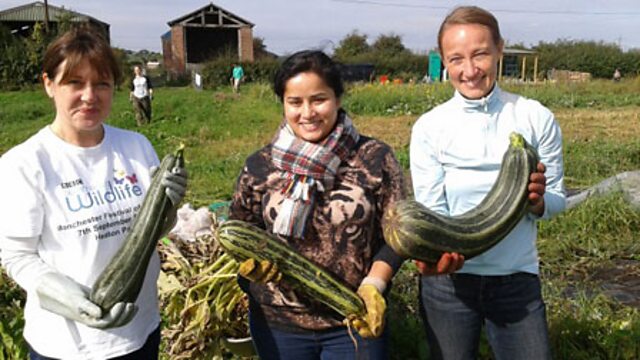 BBC volunteers showing off their collection of marrows.
Following a farm-made feast of soup, salad and cake the teams swapped over. More and more sacks were filled with potatoes and we also mashed-up overgrown marrows and other waste to add to the compost, which was something I particularly enjoyed! The passion and commitment of the farmers and the Kindling Trust staff certainly inspired us and a number of the Bitesize team are thinking about volunteering at the farm again in our own time.
"The people at the farm were all really down to earth and took the time to teach us about everything, and answer all of our stupid questions! I am going to help them out again when they need it" Vicky Barlow, Assistant Producer, BBC Bitesize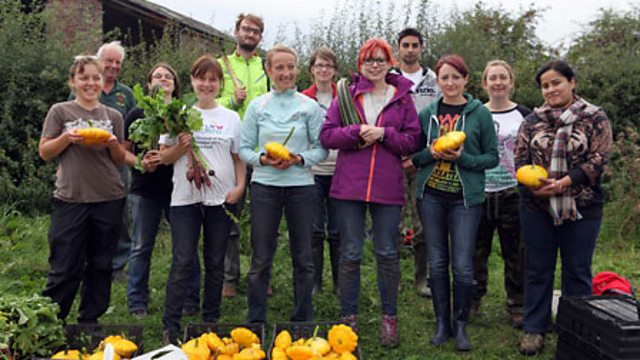 Group shot of the team with some of their produce after a hard day's work.
At the end of a hard day's work we were able to take home some of our harvest. Armed with as many squash, marrows, potatoes and radishes we could carry, we left a satisfied army, imagining what delights we could cook; soup, stew, roasted veg, perhaps? The possibilities were endless and all together tastier, picked ourselves.
*BBC Outreach organises volunteering opportunities to support various charities around the UK.