Several months ago I took on the task of creating a music video to display on the big screen at the St Pauls carnival in Bristol. I wanted to show the area in a positive light - a vision of all that is great about this vibrant multicultural hub of human creativity. It was especially personal to me as St Pauls is the area I grew up in.
The first part of the project involved gathering people's thoughts and feelings about the area, and their memories of Carnival. We researched a number of community groups and eventually settled on two: Cabot Primary School and the Elders of the Malcolm X Centre. We felt that by combining the views of young and old we would get the broad spectrum opinion we were looking for; a cross fire of perspectives from those that had lived there for last 50 years and those that may well be living there for the next 50.
The theme of this year's carnival was migration and the Elders told us stories of coming to the UK from Jamaica and other parts of the West Indies, how they had never experienced fog before and were confused by how there could be so much smoke everywhere but no sign of a fire. They told us touching stories about loved ones left behind and tearful reunions, how even though the weather was cold, the warmth of the communities they found themselves in was enough to see them through those first few winters.
One of the women we spoke to was Princess Campbell MBE, honoured for her services to St Pauls and Bristol. She told us that St Pauls had been her whole life. Her love of the area was clear in her demeanour, as was the frustration she felt that it has a public reputation focused on race riots and violent gang culture rather than the 99% of people that get along together perfectly well 99.9% of the time. She wanted us to make a happy song about the good people of St Pauls, the people that work together to improve themselves and their situation. This is the majority of the people, she said, and she wanted us to give them something to smile about, something that sounded like Bob Marley, something everybody would like.
What I enjoyed most about the memories that came from the primary school children was the sensory way in which they described the carnival. They talked about the taste of sugar cane and Jerk Chicken, the smell of it in the air and the noise that comes out of the sound systems that is so deep and loud that it will physically shake your body inside and out. When the Elders talked about carnival, they talked about its beginnings, how their church had opened its doors to strangers, how people had come in to dance and laugh and have a good time.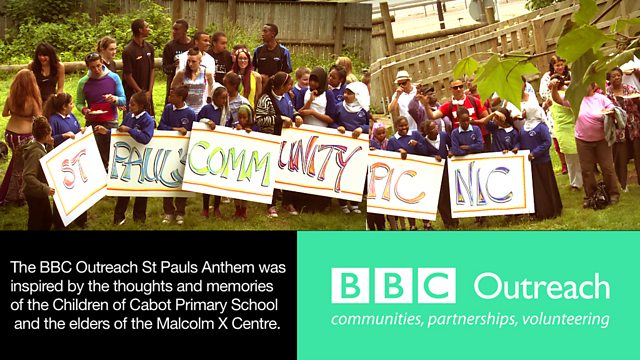 Flyer for the BBC Outreach musical video day, featuring young people
We took all the memories we gathered during the workshops and passed them onto the band, Laid Blak. This is a local act who's music has been described as 'colourless' in the best way possible. We chose this band because of a track and a video called 'whoa!' Filmed in a barber shop in Easton, it had exactly the right kind of community feel we were looking for.
It was an anxious wait to see what they would come up with; after two weeks of nail-biting and emails that simply read… is it ready yet… We finally had our anthem. It was a real ear-worm and while it bounced constantly around my mind day and night, I didn't mind it being there.
With the song in place we moved onto planning the video shoot. We hired a venue that had been mentioned by the Cabot Circus children and hosted our own mini-carnival, complete with dancers and costumes and Caribbean food. We invited everyone who had been involved with the memory workshops and many others from the St Pauls and Easton Area - mothers and toddlers, local artists, Bristol Storm Basketball Team, dancers.
BBC Outreach provides volunteering opportunities for BBC staff and we had quite a few come forward from the BBC Outreach Apprenticeship Scheme, the Face-to-Face and Talent Ticket training programmes or other forms of BBC work experience. Filming three dances and several other activities inside of two hours was difficult but the volunteers did a great job, working alongside a freelance editor who assisted me in bringing the footage together into coherent video.
Carnival has been and gone now, and video has served its purpose. It was shown on the big screen in Portland Square several times on the day, along with a set of memory slides we gathered from more local people. This project generated positive news stories for St Pauls on local television and the anthem even became the background of Radio Bristol's trails ahead of carnival. Feedback on the event and the song has been very positive. Through working on this project we learned about many new community groups that we didn't know existed and worked with some really interesting and creative individuals. More importantly we've made friends within the community.
Producing this project has been incredibly rewarding for me personally, not only was I was able to see the area I grew up in be celebrated for its strengths rather than its weaknesses, but I also watched people come together and learn from each other, and have a chance to prove their skills and talents in practice. While the song slowly repeats to fade, I know there will be a couple of hundred people who will never forget working on the Anthem, and who can tell their disbelieving grandchildren, jealous older brothers and sister and even prospective employers, that in 2013 they helped create a music video for the BBC and it was a whole lot of fun.
*Outreach forms a part of the BBC's City Partnership with the City of Bristol. The work of BBC Outreach in the city connects the BBC with the audiences we have traditionally found harder to reach with our broadcast programmes.
Anthem inspired by memories from BBC Outreach community workshops in Bristol.