BBC PAF 10 Year Celebration
I work for the BBC Performing Arts Fund, which supports talented performers around the UK with funding raised through phone-ins for BBC talent shows like The Voice. Although we are an independent charity managed by a Board of Trustees, we are linked to the BBC via BBC Outreach.
Last month, with help from the BBC Outreach team, we held an evening of performances in the BBC Philharmonic Studio at Salford's MediaCityUK to celebrate 10 years of the Fund and the £4million in grants we've given away since 2003.
The BBC Performing Arts Fund has awarded grants to over 1,200 individuals and 230 community groups for projects that have raised aspirations, supported emerging talent and increased community participation in the performing arts.
Presented by Radio 6 Music's Mary Anne Hobbs, the evening showcased winners of the Fund. Throwing Vinyl, a rock band that came together from the Rock It! sessions in Bolton, smashed the opening number. Rock It! were awarded a Community Music grant for a series of composition workshops exploring new music genres.
We then had a mind-blowing performance by Music Fellow Alex Wilson, a contemporary classical jazz pianist, who will be working with Cheltenham Music Festival this year on developing a Composer Academy. We saw his elbows being used on a grand piano – we gasped!
Onto an angelic soprano, Bethany Seymour, who will be doing her Music Fellowship with the National Centre for Early Music to receive intensive voice coaching, language tuition and training in stagecraft.
Between live acts we enjoyed the work of our dance grant winners including footage of Janine Harrington's piece 'The Bridge' which she developed during her Dance Fellowship with Independent Dance. 'The Bridge' was an interactive choreography across Millennium Bridge that comprised of 45 dancers and took 6 months to create.
Also shown was a film from Corali Dance called 'At Last' which was created through their Community Dance project in 2011. Members of their company were able to undertake personal development workshops with a host of professional performing artists.
The evening came to a close with a 50 strong ladies choir, The Fireflies. Based in Ellesmere Port, the group will be using their Community Music grant to commission an anthem celebrating the history and life of the local community.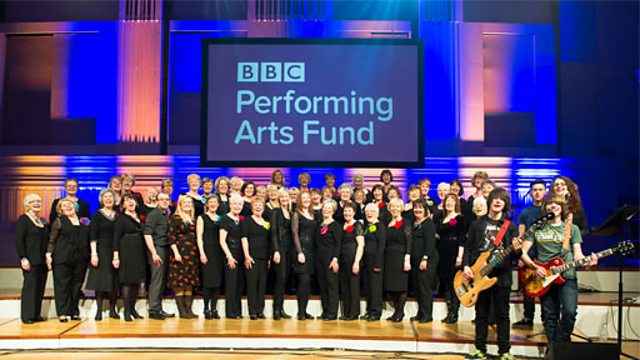 Performers at the recent BBC Performing ARts Fund event, with the Fund's logo
We're very proud of what our winners have achieved in the last 10 years. Having our extended Outreach family there to help on the day made the party all the more special and it wouldn't have been possible without their support. Here's to all the great performing arts activity to come!
BBC Outreach has long worked with the BBC Performing Arts Fund, acting as its host department at the BBC and working in close contact over many years. BBC Outreach was proud to support this event celebrating the achievements of the Fund.