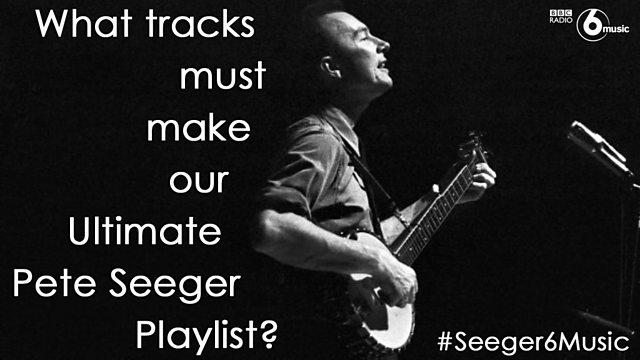 Following the sad news this week that iconic folk musician and activist Pete Seeger passed away at the age of 94, #NowPlaying thought it only fitting to ask you to help create a playlist dedicated to the man and his legacy. And, boy, what a life, and what a legacy.
Billy Bragg was among those leading Twitter tributes after news of Seeger's death broke on Tuesday (January 28).
The Grammy Award-winning musician's influence stretches back to the 1940s, when he was a founding member of The Almanac Singers, which included fellow folk pioneer Woody Guthrie. But it was his second group, The Weavers that first helped him gain fame in 1950 with the Lead Belly cover 'Goodnight Irene'. However The Weavers' career abruptly ended in 1953 with blacklisting by the US government for what was deemed leftist views, prompting bans on performing live and any TV and radio broadcasts.
Undeterred, Seeger then went solo, co-writing 'Where Have All The Flowers Gone', and helping to popularise 'We Shall Overcome' by becoming a key anthem of the 1960's Civil Rights Movement, something he was also heavily involved with. His song Turn! Turn! Turn!, also, of course, became a chart-topper for The Byrds.
He kept producing albums during his blacklisting and was still performing well into his 90s. Seeger played at President Barack Obama's inauguration in 2010 and more recently at Farm Aid 2013, the annual benefit for America's family farmers, alongside Willie Nelson and Neil Young. 
Seeger was set to recieve the first Woody Guthrie Prize on the 22nd February this year, which is still to go ahead, but to be more a celebration of the mans life.
Many artists have credited him as an inspiration: Bruce Springsteen hailed him "a living archive of America's music and conscience, a testament of the power of song and culture to nudge history along". 
So what tracks must make our special playlist, offering a befitting a musical tribute to Seeger's legacy? You could choose:
As ever, the decision is yours - but don't forget to tell us the REASON for your choice.
Tweet suggestions with the hashtag #Seeger6Music, post on the Now Playing Facebook page, email nowplaying@bbc.co.uk, or drag tracks onto our collaborative Spotify and Rdio playlists.