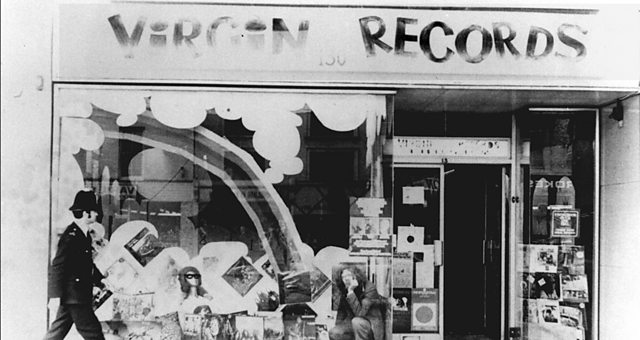 Original Virgin Records shop in 1971
This Sunday we're celebrating the 40th anniversary of one of Britain's most eclectic record labels: Virgin Records. 
 
From rallying cries of 'Anarchy in the UK' to calls to 'Spice Up Your Life', the label co-founded by Richard Branson in the 70s, has certainly given us a smörgåsbord of sounds – thanks to it being the home (at one time or other) to The Sex Pistols, The Rolling Stones, Devo, Kelis, Massive Attack, Human League, Depeche Mode, Blur, Placebo, Captain Beefheart, Daft Punk, N*E*R*D*, The Chemical Brothers, Culture Club, Spice Girls, Scritti Politti, Faithless, The Smashing Pumpkins, Monty Python (yes, really) … and many, MANY more. 
 
Oh, and of course, the label's very first release in 1973 gave us some of the scariest music in cinema history, courtesy of Mike Oldfield's Tubular Bells' and a certain film called The Exorcist. 
 
So what do you reckon should make the ultimate Virgin Records playlist honouring its four decades in the music business? 
* Something from its prog rock and krautrock beginnings?
* Maybe the punk or post-punk days – thanks to Johnny Rotten and Co. or Magazine? 
* What about its New Wave era – and a bit of Simple Minds, Human League or OMD?
* Then there's its dance stable – The Chems or Faithless anyone?
* Or perhaps you're up for a bit of fun – à la Monty Python? 
 
It's up to you where we take the two hours of music. So let us know what you want to play by commenting on Facebook or here on the blog, Tweet #VirginRecords6Music or email us at nowplaying@bbc.co.uk or add a track onto our collaborative Spotify or Rdio playlists.