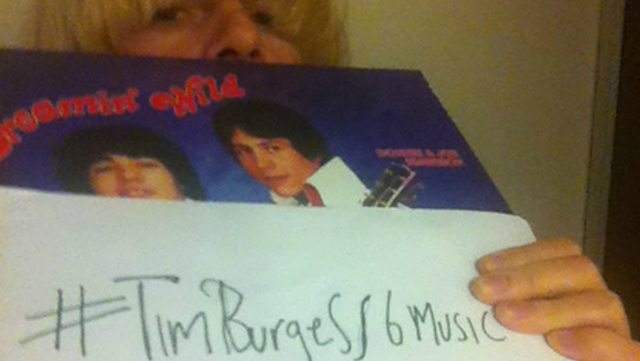 This week solo artist, DJ and
Charlatans
frontman
Tim Burgess
makes a very welcome return to Now Playing as our latest 'Tweet in' guest, as he puts together a playlist in collaboration with you.
He was one of our first ever guest curators when the show launched back in 2011. With Tim gearing now up to take to the DJ decks at the 6 Music Festival at the end of the month, as well as releasing a compilation album on his label O Genesis on February 17th, we thought it was about time we got him back to share his ever-evolving musical tastes with you.
Tim's even written us a guest blog below to give you to an idea of the types of tracks he'd especially like to see among your suggestions, which you can Tweet Tim direct with the hashtag #TimBurgess6Music. Plus we'll pass on your song selections sent in the usual ways - via the Now Playing Facebook page, our nowplaying@bbc.co.uk email, or dragged onto our collaborative Spotify and Rdio playlists. 
But enough of us, over to Tim...
"It was just over two years ago since I took the good ship BBC 6 Music for a sail around the choppy waters of Twitter.
It was a fun and frantic night as far as I remember. The Fall, Factory Floor and
Nancy Sinatra
all featured - with Nancy herself tweeting in to say thanks.
The last two years have been enjoyable in terms of the records I've recorded, ones we've released on our label, O Genesis, and ones I've bought feeding my vinyl addiction.
Last year saw some fantastic releases from the likes of Body / Head,
Kim Gordon
's umpteenth exciting adventure - a record made even more enjoyable as I bought it in Pie & Vinyl in Southsea. 
So what am I listening to at the moment that you could pick for my playlist on the show? 
Peaking Lights are current favourites, as are Grumbling Fur. I got to see Bill Callahan live a couple of days ago which blew me away - I'm not sure I go more than 48 hours without hearing Bill's voice via Smog or any of his solo albums. I'm still going back to last year's Prefab Sprout album - their best since Steve McQueen. At this very second I'm listening to a song by Dub Sex, before that it was Seahawks. I'm not sure where I heard it but Katy Perry's latest song is stuck on repeat somewhere in my head too. 

We've released some great records on O Genesis. I always think if I'm asked about my favourite music and I mention my label, people might think, 'there he goes, trying to flog some records'. But it really is my favourite music, kind of why we put it out in the first place (or is it a double bluff to try to flog some records?). In any case there's the shoegaze headshake of Slowgun, the punky pushing things over of Throwing Up and the louche smoking jacket cool of Hatcham Social - I got to play gigs with all of them too so they were the soundtrack of some amazing times.

I got to work with someone I've admired for a long time, Love of Life Orchestra head honcho, Peter Gordon. From a recommendation from a guy in a record shop to a quickly developed obsession - a chance meeting, a vague plan and a resultant single. Like a perfect trajectory. I'd written the song with Kurt Wagner - he and I had recorded an album at Beech House in Nashville, I was there a few weeks so got to hear what was happening there - my friend was working with Laura Cantrell who's from there, her new album is great too. We ended up singing a new order cover when she played at The Union Chapel.
Yeah, so country, pop, shoegaze, punk and techno have been what I've listened to so far today." 
Thanks for that Tim! Some great music to get you thinking… and of course there's music from The Charlatans or his side projects with The Chemical Brothers, Saint Etienne and more, that you could pick. 
Send in your song suggestions via the ways mentioned above, now and during Sunday's live show, for what promises to be a very special playlist.