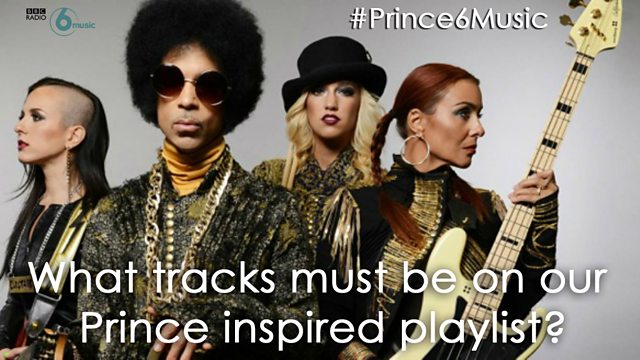 With the nation on #PrinceWatch, Tom Robinson invites you to help create an unmissable Prince-inspired playlist.
His Royal Purpleness has been keeping UK fans on their toes - by announcing a spate of last-minute Third Eye Girl guerrilla gigs via Twitter, sending the online world into a frenzy.
Throw in the gigs' intimate settings and an even more intimate press conference (in the front room of his musician pal Lianne La Havas), together with a much-hyped BRIT Awards appearance AND fresh rumours of a Glastonbury headline slot this summer…a special playlist in honour of this inimitable music icon is The Law.
Is it any wonder #Prince, #PrinceWatch and #PrinceArmy have been trending? Purple 'Reign', indeed.
So where to start when compiling a playlist dedicated to the man that once was LITERALLY (remember Squiggle?), and now not so literally, an icon?
With a genre-spanning back catalogue that encompasses rock, R&B, soul, funk, hip-hop, blues, new wave, jazz, disco, electronica, psychedelia and pop, his music acknowledges a host of influences, and, he has in turn influenced a host of acts since the release of his naughtily-named 1978 debut single.
You could pick:
Anything from one of his 25 studio albums or two live albums PLUS any of his 91 singles?
Songs he has written for others, which include Chaka Khan's 'I Feel For You', The Bangles 'Manic Monday' and, of course, Sinead O'Connor's 'Nothing Compares 2 U'?
His influences - so (deep breath) Sly & the Family Stone, Parliament-Funkadelic, Joni Mitchell, The Beatles, Johnny "Guitar" Watson, Miles Davis, Carlos Santana, Jimi Hendrix, James Brown, Led Zeppelin, Marvin Gaye, The Isley Brothers, Duke Ellington, Curtis Mayfield, and Stevie Wonder…any more we don't know about?
The Minneapolis sound, a mixture of funk rock pop synth pop and new wave which was pioneered by Prince and taken on by Jimmy Jam, Time, Morris Day and Vanity 6 to name a few?
This list is endless. Get your song suggestions - and all important-reasons WHY - into us by tweeting #Prince6Music, comment on the Now Playing facebook page, here on the blog, email nowplaying@6music.co.uk or drag tracks onto our Spotify and rdio playlists.