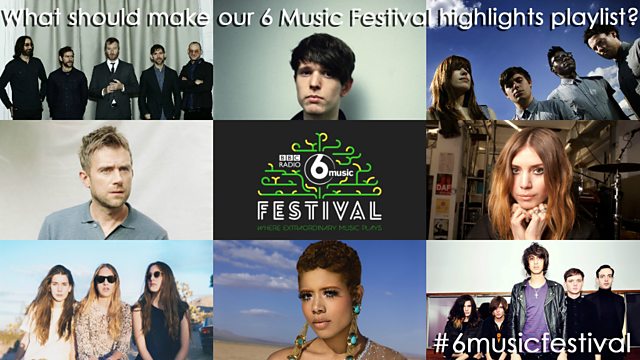 So the FIRST EVER BBC 6 Music Festival is happening people - how exciting is that? Whether you bagged a ticket or not, we're giving YOU the chance to enjoy all the action by creating your own best bits playlist this Sunday (March 2), following the two-day event.

With more than 30 artists and DJs across three stages at Manchester's Victoria Warehouse, the 6 Music Festival is bringing together both the music-makers and listeners who make 6 Music what it is. The results will be pretty special and the audience are as much a part of that as the artists making up the bill.

So over to you. What should be on Sunday's highlights playlist between 6-8pm?

That's anything from the festival basically: What are your favourite musical moments from those on the bill? Who would you have been at the front row had you gone? If you did go, who gave the best performance and why?

Here are some of the acts who are playing Friday February 28 and Saturday March 1 to get you thinking:

Damon Alban, Franz Ferdinand, The National, Haim, James Blake, Kelis, Metronomy, Bombay Bicycle Club, Groove Armada and Tim Burgess are just some of the 30 acts who are taking part. See the full line-up here for more ideas:  http://www.bbc.co.uk/events/e8gmxj/performances

Just don't forget to add the reason behind WHY you've picked a track.
Your Now Playing @6Music Master of Ceremonies - Tom Robinson - will also be giving you the chance to decide which EXCLUSIVE UNSEEN (or rather unheard) track or interview from the Fringe Festival stages you would most like to hear via a Facebook head-to-head during Sunday's live show.

Plus we'd love you to share your photos and memories of the event for a special festival gallery.

Tweet suggestions and photos with the hashtag #6musicfestival, post on the Now Playing Facebook page, email nowplaying@bbc.co.uk, or drag tracks onto the collaborative Spotify and Rdio playlists