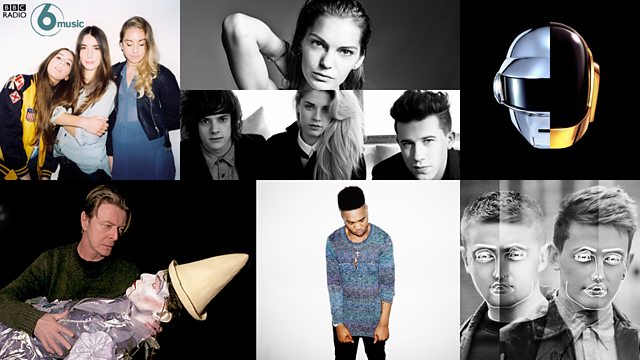 At the end of the year there's one thing which dominates the online music world and that's lists. Who doesn't love a list?! So over the next few weeks on Now Playing @6Music we're going to do a series of list-based shows that we need your help with…
1. #Blog6Music - Hype Machine 2013 UK Blog Zeitgeist (December 15)
Hype Machine is the biggest music blog aggregator in the world, pulling together hundreds of different sites in order to find the tracks that are being talked about the most at that moment. Hype Machine have already revealed their overall end of year lists but once again this year we've especially commissioned them to create the Top 25 most blogged artists in the UK alone…
They've taken this data from the 128 active blogs they database. So plenty to chose from but who will steal the crown from last year's most-talked-about artist AlunaGeorge? Find out on Sunday and join in the conversation by using #Blog6Music on Twitter.
2. #Christmas6Music – The Ultimate Alternative Christmas Playlist (December 22)
Christmas, wonderful Christmas. Christmas, which begins in November when the shops start playing festive music… But some songs seem to get all the airtime (We're looking at you, Wham!). So forget the cheesy, mainstream seasonal tunes, we want you to help us create the Ultimate Alternative Christmas Playlist.
The Flaming Lips, Julian Casablancas, The Killers, R.E.M., Sufjan Stevens, Smashing Pumpkins and even The Fall are among those who have recorded their own musical festive offerings. So tell what you'd like to hear. There are loads of ways you can get involved: tweet using #Christmas6Music, comment on Facebook or this blog, or add your suggested tracks to our collaborative Spotify and Rdio playlists.
3. #6Music2013 - the Ultimate 2013 Playlist (December 29)
What is the best track you've heard this year? Which song will instantly take you back to a 2013 memory? What was your best live moment of the past 12-months?
With less than two days of 2013 left, we will run down some of your favourite tracks of the past year with your input on Twitter using #6Music2013, Facebook, here on the blog and on our collaborative Spotify and Rdio playlists which you can add tracks to.
Can you remember what you thought would be big in 2013 this time last year? Well here's the Spotify playlist you helped put together…
4. #6Music2014 - the Ultimate 2014 Playlist? (January 5)
It's hard to believe that artists like Disclosure, Alt-J and London Grammar weren't household names this time last year. But which acts are going to enjoy the same meteoric rise in 2014?
We want you to look into your musical crystal ball and help us create a playlist based on the hotly-tipped bands and artists you reckon will be making waves this year. Maybe you saw them tucked away on a small stage at one of the festivals last summer, or you've been following a local act going from strength to strength?
But it doesn't just have to be new acts... Perhaps your favourite artist is returning in 2014 and you just can't wait to have them back? (U2 or Beck anyone?) Well, we want to know that as well.
And as always, we want your suggestions on Twitter using #6Music2014, Facebook, here on the blog or on our collaborative Spotify and Rdio playlists.
So. There's plenty to be done! But as we said… Who doesn't love a list?!