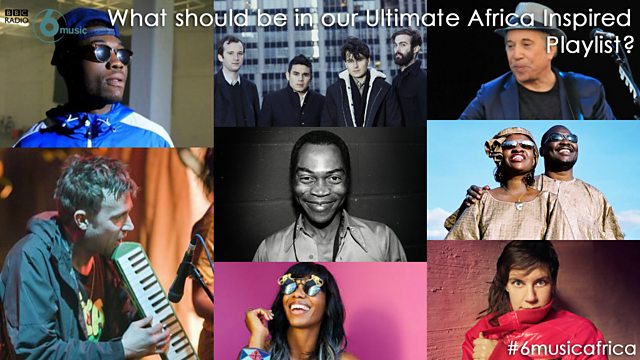 This weekend 6 Music is celebrating African music, culminating in the fantastic 'Mali Music' documentary on Sunday at 1pm. This sees Gemma Cairney travelling to Mali to meet local musicians affected by the recent troubles, and joining Damon Albarn's Africa Express as they attempt to record an album in Bamako. 
Team Now Playing couldn't resist getting involved and so we're wrapping up the whole Africa weekend celebrations, with a playlist of music from, and inspired by, the continent – picked by YOU.
So what tracks should we play? There's:
*African artists like the late great Fela Kuti, Ladysmith Black Mambazo, Mali's Amadou & Mariam or more recent artists like the 6 Music playlisted Afrikan Boy?
* Artists influenced by African music – such as Paul Simon, Damon Albarn, Malcolm McLaren or Toto with 1982 mega hit 'Africa' (maybe not)?
* Maybe songs featuring African instruments? Like Mumford and Sons who used the banjo which is of African origin. What about U2's 'Vertigo' which features drummer Larry Mullen playing the traditional West African djembe drum? Curtis Mayfield's 'Move On Up' which is bongo-tastic throughout or even Vampire Weekend who have been heavily influenced by African rhythms (see 'Cape Cod Kwassa Kwassa').
* How about the plethora of African-American music stretching across jazz, blues, gospel, or hip hop? Including acts up to the present day like Santigold (see collaboration with Amadou & Mariam)?
* Or something totally off piste like the official African World Cup song 'Waka Waka' by Shakira? Erm… 

The floor is yours for two hours so use every bit of it well; think big, think small, think left field and out of the box. Just remember to provide a REASON behind your choice.
Let us know your suggestions by leaving a comment on here or our Facebook page, Tweet #6musicafrica, send us an e-mail or add a track to our collaborative Spotify and Rdio playlists.