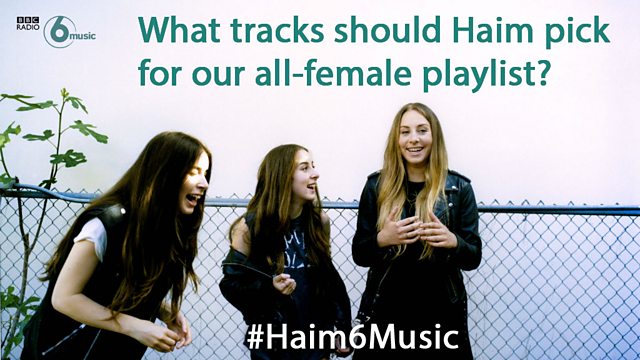 Fresh from their triumphant 6 Music Festival appearance, Haim curate Now Playing's first ever all-female playlist via Twitter to mark International Women's Day.
The Los Angeles girl trio will be live tweeting throughout Sunday's show between 6-8pm. They'll be selecting and directly commenting on tracks suggested by YOU using the hashtag #Haim6Music, as well as those sent in via Facebook and other platforms (see the bottom of page for the different ways to get your suggestions into the show).
And who better to host this special tweet in, than a group who have been specifically recognised for their Twitter skills. At last month's NME Awards not only were the trio awarded Best International Band, but guitarist and singer Alana Haim scooped the Best Blog or Twitter Award for her @babyhaim feed… for the second year running.
Meanwhile, as well as curating Now Playing's first ever all-female playlist, Haim host our inaugural 'relay tweet in'. From 6.30pm each band member will take it in turns to curate 30 minutes of the music - all inspired by the YOUR suggestions. The first 30 minutes of the show will be a mix of the trio's own personal favourite tracks by fellow female musicians.
Since topping the BBC's Sound of 2013 poll, sisters Este, Danielle and Alana Haim have become one of the hottest new music acts, performing at Glastonbury and signing to Jay Z's Roc Nation label, as well as picking up a clutch of awards along the way.
The group's special tweet in is ahead of the release of their latest single 'If I Could Change Your Mind', from their debut album 'Days Are Gone'.
So what tracks do you reckon Haim should pick for our inaugural all-female playlist as we extend Saturday's International Women's Day celebrations?
Get your song suggestions – including the reasons WHY - into us by tweeting #Haim6Music, comment on the Now Playing Facebook page, here on the blog, email nowplaying@6music.co.uk or drag tracks onto our Spotify and rdio playlists.