Now Playing @6Music
Featured Post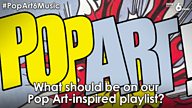 This Sunday (6pm-8pm) Tom Robinson wants your suggestions for a special playlist inspired by Pop Art. Get your tracks, artist and album picks to Now Playing via #PopArt6Music
Posts
To help celebrate 6 Music's Pop Art season, Now Playing applauds one of the most striking and dynamic cultural movements of the 20th Century…and we need YOU to help us.

Intrinsically linking music and art like no other genre, Pop Art can take dozens of different forms, and it's here where we'll mine the best examples of fantastic Pop Art and arty pop. You can start with the obvious picks…

Andy Warhol was, of course, the king of Pop Art and hung out with a whole host of music legends on a regular basis, including Jim Morrison, Brian Jones, Mick Jagger, Bob Dylan, The Velvet Underground and even Judy Garland.

He made legendary screen prints of Debbie Harry, Elvis Presley and Nico, created one of the most iconic album covers of all time for The Velvet Underground, and did you know he painted record sleeves in the 1950s for jazz artists? Before he hung out at The Factory, Warhol painted music artwork for Thelonious Monk, Kenny Burrell and Count Basie among others.

Or how about Roy Lichtenstein; U2 were inspired so much by his work that they wrote an album and made a tour based on his visual style. Sir Paul McCartney allegedly has an original Lichtenstein hanging in his Soho...

What a week for massively famous new wave acts. First of all, Talking Heads legend David Byrne is all over the network, and then – whad'ya know - 6 Music goes and announces that Byrne's old mate Brian Eno will deliver next month's John Peel Lecture.

So this, dear listener, gives you not one but TWO hugely rich seams to mine on Sunday's Now Playing. The brief is simple. Any song or artist you can think of that has an association – no matter how trivial – to David Byrne and Brian Eno. Thankfully their historical musical paths cross many times.

As well as their own collaborations on the albums My Life in the Bush of Ghosts and Everything That Happens Will Happen Today, you could start with the two titans' many musical peers of the seventies and eighties, including Talking Heads and Roxy Music, The Ramones, Blondie, or indeed anyone who ever played at the famous CBGB club.

Veer off into prog pioneered by associates including King Crimson...

Hey boy. Hey girl. Superstar DJs. Here we go! It's all about BIG BEAT on this Sunday's Now Playing, as you, dear listener, help us compile a playlist of epic block rockin' beats.

This summer marks the 20th anniversary of The Chemical Brothers' debut album, 'Exit Planet Dust'. Released in the UK at the end of June 1995, the album thrust this little-known London duo into the electronica landscape, and by the time the record was released Stateside in August, Ed and Tom Chemical were already household names (if you liked dance music in your house, that is).

The Chemical Brothers, who released...

Signed by Brian Epstein after a recommendation by John Lennon, Cilla Black was much more than Blind Date and Surprise Surprise.

Indeed, during the 1960s, Cilla was a hugely famous recording artist that belonged to a generation of British female singers that included Dusty Springfield, Helen Shapiro, Petula Clark, Sandie Shaw and Lulu. She responsible for a couple of number one hits -'You're My World' and 'Anyone Who Had A Heart' - as well as putting her own spin on some Beatles classics ('Yesterday', 'For No One' and 'The Long And Winding Road').

Cilla also managed to break America,...

Fusion. It's a funny old word and many music fans run a mile at the thought of musical fusion, but hey slow down musos! It's fine! Fusion is better than you think!

In fact, the chances are you're already more of a fusion fan than you might think. 'Fusion' is classified as a musical genre that combines two or more genres. The biggest one of these is something you'll undoubtedly be familiar with - rock n' roll - a fusion of blues, gospel and country.

Perhaps the best example of current musical fusion happens next week at the Royal Albert Hall, when Mary Anne Hobbs presents an evening...

Splits, fights, break-ups, argy-bargy, fisticuffs and beefs. Isn't the music industry wonderful? A rich seam of public disagreements between artists, and thanks to social media now broadcasted for all to enjoy.

On Monday Wu-Tang member Ghostface Killah posted a video online calling out another rapper, Action Johnson. He even kindly offered to shoot him. Another rapper, Drake was trending on Wednesday after a bust-up with Meek Mill, the latter claiming Drake doesn't write his own material. Oh and also on Wednesday Nicki Minaj had a pop at Taylor Swift. Its all kicking off!

Thankfully the...

It seems hip-hop pioneers Public Enemy have skewed their own message of anti-propaganda - "don't believe the hype" - by releasing a brand new album on the hush-hush, with barely any hype at all.

Chuck-D and co released the group's 15th studio album 'Man Plans God Laughs' this morning across the world via their own online store Rap Central Station, as well as on CD and vinyl from July 25.

According to a Public Enemy spokesperson (no word on whether or not it was Flavor Flav), the new record is "driven by anthems that echo Public Enemy's longstanding calls to break down institutional...

This week sees the much-hyped Amy Winehouse documentary released to cinema screens. It's the most talked-about music documentary anyone of us here at Now Playing can remember for a long time, already splitting opinion amongst critics and people who knew the late singer.

As well as 'Amy', its also announced at the time of writing that actor Jonathan Rhys Meyers is set to play Joe Strummer in a new film about The Clash frontman, out next year.

2015 has so far been a big year for music on film. Several big screen music features have made the news (Kurt Cobain doc 'Montage of Heck', punk...

Its rock 'n' roll season across the BBC, so we don blue suede shoes, do the twist and observe the inevitable whole lotta shakin' going on between 6 and 8pm on Sunday's Now Playing.

A-wop-bom-a-loo-mop-a-lomp-bom-bom!

Its 60 years since Little Richard released 'Tutti Frutti', and that provides a perfect excuse to celebrate probably the most pivotal period in contemporary music history (1954-1964) with special programmes on BBC Four, Radio 2 and of course 6 Music.

Beginning this Friday BBC Four broadcasts a three-part documentary series, Rock 'n' Roll America, exploring the roots of rock...