Now Playing @6Music
Featured Post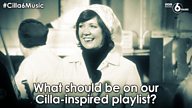 In a change to the advertised programme, Tom Robinson pays tribute to one of the greatest British singers who sadly passed away yesterday, with a Cilla Black-inspired playlist. Get your suggestions to us via #Cilla6Music
Posts
Signed by Brian Epstein after a recommendation by John Lennon, Cilla Black was much more than Blind Date and Surprise Surprise.

Indeed, during the 1960s, Cilla was a hugely famous recording artist that belonged to a generation of British female singers that included Dusty Springfield, Helen Shapiro, Petula Clark, Sandie Shaw and Lulu. She responsible for a couple of number one hits -'You're My World' and 'Anyone Who Had A Heart' - as well as putting her own spin on some Beatles classics ('Yesterday', 'For No One' and 'The Long And Winding Road').

Cilla also managed to break America, albeit in an understated way, including an appearance on The Ed Sullivan Show, a cabaret season in New York and her single 'You're My World' made it to number 26 on the Billboard Hot 100. In fact, Elvis Presley had a copy the song on his personal jukebox at Graceland.

So we at Now Playing wish to pay tribute to Cilla Black with a playlist of music inspired by her. Cilla's collaborators,...

Fusion. It's a funny old word and many music fans run a mile at the thought of musical fusion, but hey slow down musos! It's fine! Fusion is better than you think!

In fact, the chances are you're already more of a fusion fan than you might think. 'Fusion' is classified as a musical genre that combines two or more genres. The biggest one of these is something you'll undoubtedly be familiar with - rock n' roll - a fusion of blues, gospel and country.

Perhaps the best example of current musical fusion happens next week at the Royal Albert Hall, when Mary Anne Hobbs presents an evening exploring the borderlands of classical music that incorporates electronic, drone and ambient sounds. You can catch the whole thing live on the 6 Music website and on Red Button at 22:15, Wednesday 5th August.

But what should be on Sunday's Now Playing fusion playlist? Well you could start with a suggestion from 6 Music Prom headliners A Winged Victory For The Sullen. Or...

It seems hip-hop pioneers Public Enemy have skewed their own message of anti-propaganda - "don't believe the hype" - by releasing a brand new album on the hush-hush, with barely any hype at all.

Chuck-D and co released the group's 15th studio album 'Man Plans God Laughs' this morning across the world via their own online store Rap Central Station, as well as on CD and vinyl from July 25.

According to a Public Enemy spokesperson (no word on whether or not it was Flavor Flav), the new record is "driven by anthems that echo Public Enemy's longstanding calls to break down institutional...

This week sees the much-hyped Amy Winehouse documentary released to cinema screens. It's the most talked-about music documentary anyone of us here at Now Playing can remember for a long time, already splitting opinion amongst critics and people who knew the late singer.

As well as 'Amy', its also announced at the time of writing that actor Jonathan Rhys Meyers is set to play Joe Strummer in a new film about The Clash frontman, out next year.

2015 has so far been a big year for music on film. Several big screen music features have made the news (Kurt Cobain doc 'Montage of Heck', punk...

Its rock 'n' roll season across the BBC, so we don blue suede shoes, do the twist and observe the inevitable whole lotta shakin' going on between 6 and 8pm on Sunday's Now Playing.

A-wop-bom-a-loo-mop-a-lomp-bom-bom!

Its 60 years since Little Richard released 'Tutti Frutti', and that provides a perfect excuse to celebrate probably the most pivotal period in contemporary music history (1954-1964) with special programmes on BBC Four, Radio 2 and of course 6 Music.

Beginning this Friday BBC Four broadcasts a three-part documentary series, Rock 'n' Roll America, exploring the roots of rock...

Ah Glastonbury, you silly old tease. You bring us so much joy with gazillions of performances, implausible artist bookings and fairy-tale moments from any number of stages…but you just love a divisive booking don't you? You little minx *pinches Glastonbury's cheek*.

First it was Jay-Z. Then it was Beyonce. And this year you really pushed out the marmite boat by booking arguably the world's most divisive artist, Kanye West.

Thousands, if not millions, of entertainment junkies are utterly unconcerned about the booking of Yeezus, but many have protested in a Noel Gallagher-style rant....

Manish Doolabh

Content Producer

From the Foos to the Flos, you know how it goes. You're in one of the biggest bands in the world, you're rocking out on stage in Sweden just a couple of weeks before you headline the world's greatest festival, and then you fall off stage and break your leg. No Glastonbury this year.

That's what happened to Dave Grohl from the Foo Fighters but it's moments like these that give someone else a chance to step up in superhero fashion to save the day. Florence & The Machine this is your moment.

Yup Flo and her machine have stepped in to replace The Foos in what will be their first Glastonbury...

Live music on television. It just doesn't happen much anymore does it? Save for 'Later…with Jools Holland' and a clutch of cable shows, the kids these days must resort to the boring old internet to watch their favourite music stars in red, blue and green.

Gone are the heady days of 'Ready Steady Go', 'Top of the Pops' and 'Popworld'. Nowadays the biggest TV stage for artists is a sell-out spot on the 'X Factor' results show :(

During the nineties we were spoiled with 'The Word', 'The White Room' and of course the often-unpredictable 'TFI Friday', which makes a one-off comeback this week...

It's been an eventful fortnight for on-stage misadventures. St Vincent – real name Annie Clark – took a tumble off a speaker stack in Nashville last Sunday night and later tweeted that venue staff "likely saved her life".

Poor old Enrique Iglesias ended-up regretting trying to catch a drone camera at a show in Tijuana, Mexico, after it's rotor blades sliced his fingers. He can be your hero again when he's healed.

And a couple of weeks ago U2's The Edge was so lost in the band's performance of classic 'I Still Haven't Found What I'm Looking For' that he wandered off stage in Vancouver...